Restaurant style veg kurma recipe or vegetable korma made with mixed vegetables and fresh korma sauce is my idea of comfort food for winters. Ready in 30 minutes, vegan and gluten free!
Big hearty chunks of veggies like potato, cauliflower, carrot, green beans simmered in a very flavorful south Indian style spice base for this vegetable kurma recipe. Best served with south Indian breakfasts like parotta or rice.
More curry recipes – thai yellow curry, red curry, green curry, thai panag curry, chickpea curry in instant pot, potato chickpea curry.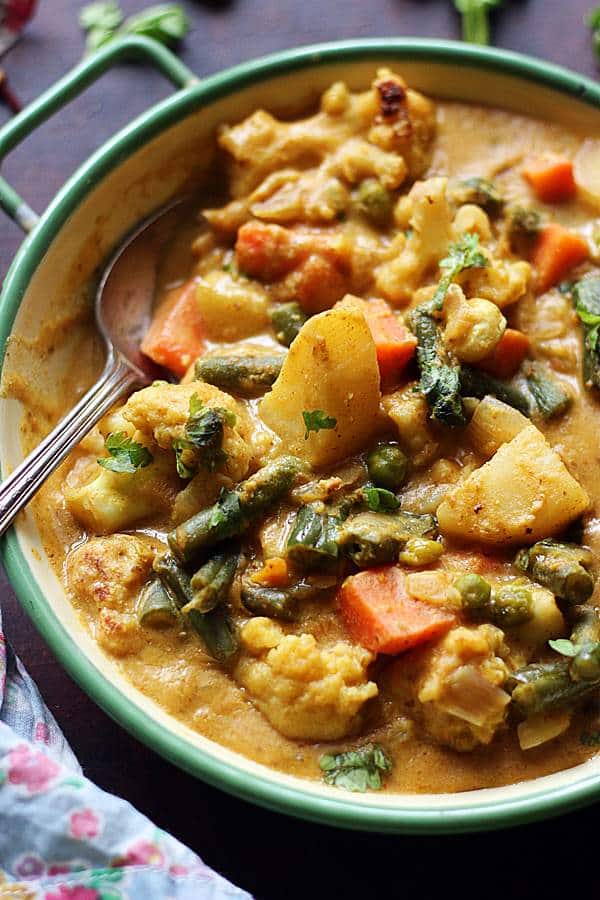 Calling all curry fans 🙂 The super delicious Indian recipe vegetable kurma curry is here to comfort and warm you this winter.
Made of chockablock of vegetables simmered in a heady coconut based sauce or curry, this veg korma is the right way to do winters 🙂
The aroma of this curry simmering strides away the winter blues while the curry nourishes you and keeps you warm.
Making a good veg kurma recipe curry is easy with my tried and tested recipe. Sharing with you all my keeper recipe along with step by step photos and of course loads of tips. Try out and enjoy!
About This Recipe
Korma is an Indian curry where chunks of veggies or meat are cooked in a freshly made kurma paste with coconut or coconut milk and other select ingredients like cashews, poppy seeds.
This Indian veg korma curry goes very well with rice, parotta, naan, roti. Vegan & gluten fee! Classic vegetarian & vegan variation for chicken kurma. Korma is called kurma in south Indian states.
Vegetable kurma is my all time favorite south Indian food. This is a popular, delicious and most loved curry known as veg kurma in south India.
The ideal combination of this kurma curry is parotta but we love this with steamed basmati rice and lachha parartha too.
A well made good korma is thick, creamy, is perfectly balanced with flavor flavor from various spices and contains chunks of veggies or meat.
A good kurma begins with best homemade kurma sauce or paste. Now there are so many variations how this sauce is made.
Few whole spices are added, few are left out based on region, personal preference and that varies the taste of the finished dish.
Here I am sharing the tastiest vegetable korma recipe that I have been making since a decade. This is the recipe that my mom makes, which I have altered a bit to make it more creamy and rich.
This is one curry which is light yet rich, perfectly suited for special occasions and a wonderful comfort food as well. A bowl of piping hot veg kurma with rice is my idea of comfort dinner for a chilly night with piping hot steamed rice or naan bread.
Read on get the recipe along with my tips, tricks and secret touch to make creamiest tastiest veg kurma. I have also mentioned how to use curry powder instead of fresh spice paste. This Vegetable Korma Is
Hearty, creamy & tastiest
popular & favorite Indian food
Made with fresh korma sauce
Contains chunks of hearty veggies
vegan and gluten free
light yet rich & delectable.
Ready in under 45 minutes of total time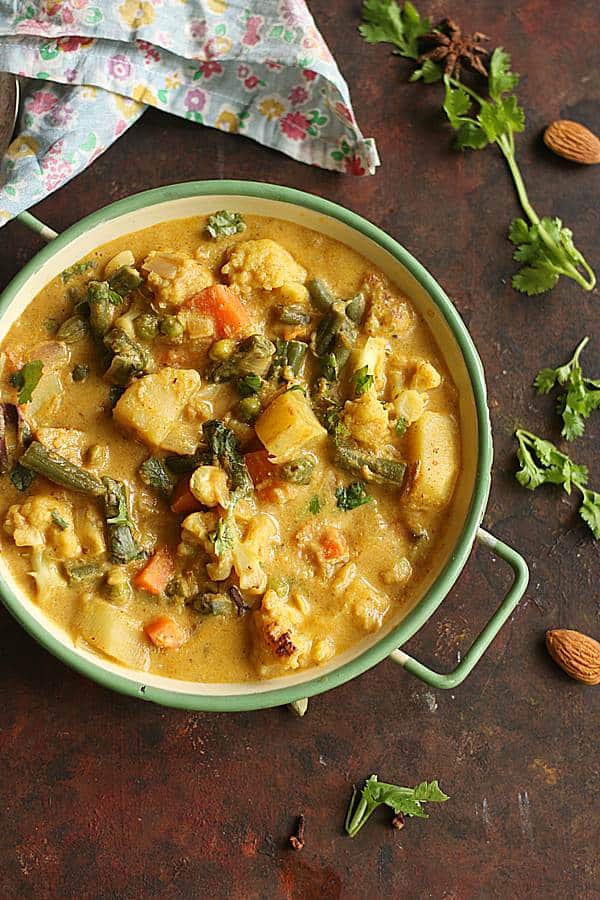 Mixed veg curries are our favorite at home and I often make vegetable stir fry, mix veg recipe, veg sagu, vegan stew , navratan korma with mixed vegetables. This vegetable kurma is another favorite, the total time spent in so worth.
Before going into the recipe, here are few things you need to know about south Indian veg kurma in case you have not tasted it or known about it
The base of this kurma sauce is coconut. Freshly grated coconut but sometimes I also use thick coconut milk, so much creamy and rich korma! If you are using coconut milk make sure to use unsweetened coconut milk.
This recipe is not made with cream or butter. All the richness and creaminess comes from coconut, poppy seeds. I add some almonds but that is totally optional. You can also check out this delicious cauliflower kurma recipe.
Fresh coconut is the base of this kurma paste, having said that you can totally make this recipe without coconut too. Lookout for my instructions in the notes section.
Now let's get into the recipe right away. First off you need to make the kurma sauce.
What Is Korma Sauce Made Of?
As said above there are various ways to make korma sauce. While some recipes call for onions, cashews I prefer to make mine with the below mentioned ingredients.
Trust me this sauce is more than delicious, this is authentic and most flavorful.
Typically these ingredients go in the making of kurma paste.
Roasted Bengal gram or chutney dal
Pottukadalai in English is known as roasted Bengal gram. It is a very widely used ingredient in south Indian cooking especially for making chutneys or for thickening gravies.
Here also we are using it to thicken the korma paste and lend some volume & flavor.
This ingredient is very specific to Indian cooking, so if you are able to get it in the United States or other countries you can just leave it out and increase the quantity of almonds and grated coconut. You can also use cashews instead.
You can also use roasted chana dal instead of chutney dal.
Almonds
Generally almonds are not used in this recipe. However I like to use some as they lend wonderful flavor and lends richer taste without making the korma very heavy. If you prefer you can use cashews instead of almonds.
Green chilies
For heat, increase or decrease as required. The quantity given in the recipe if for moderately spiced veg kurma.
Cumin seeds
for flavor, you can also add some fennel seeds and bolder flavor.
Tomato–
a small tomato for tangy taste and flavor. This is not tomato based curry. So do not add more. If you want to make white korma sauce you can just leave out tomato and some yogurt while making the curry. That will not be vegan though.
freshly grated coconut or coconut milk–
Freshly grated coconut is the base of this curry. Instead of fresh coconut paste you can use thick coconut milk for creamier sauce.
Ginger garlic paste
for flavor, add as per preference. You can also use freshly minced ginger and garlic.
Garam Masala
I do not like to use powder garam masala or curry powder in veg kurma recipe as it alters the flavor a bit. You can however add 1 teaspoon of either along with salt.
Which Vegetables Go Well In This Curry?
Veggies that we generally use for veg pilaf or kadai vegetables go well in this vegetable korma too. I usually add
potatoes
carrot
French beans or green beans
green peas
cauliflower.
You can also try baby corn, broccoli in this Indian vegetables recipe.
Before adding to the curry base, you will have to prep the veggies a bit for this restaurant style veg kurma recipe.
First off chop the veggies into big chunks for a hearty curry. You do not want veggies to loose shape or disintegrate in the curry.
Next before adding to the korma sauce the veggies should be partly cooked. You can either steam the veggies or pressure cook or saute in a bit of oil like I did.
I prefer to saute the veggies in oil and cook with a splash of water.
Preparation For Korma
Rinse, peel and cut potatoes & carrots into big cubes. Chop green beans lengthwise.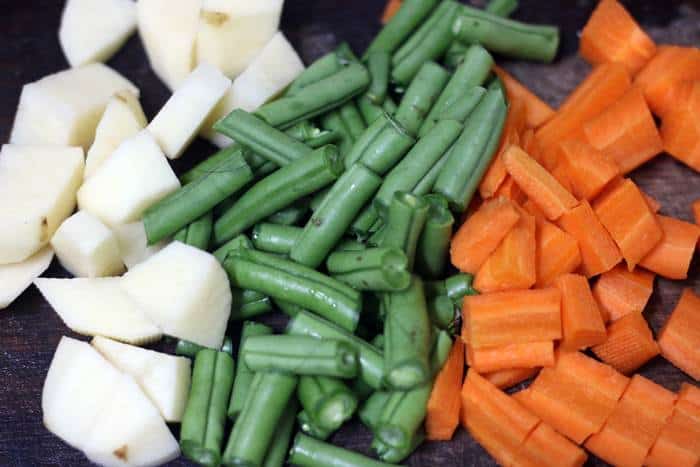 Shell green peas.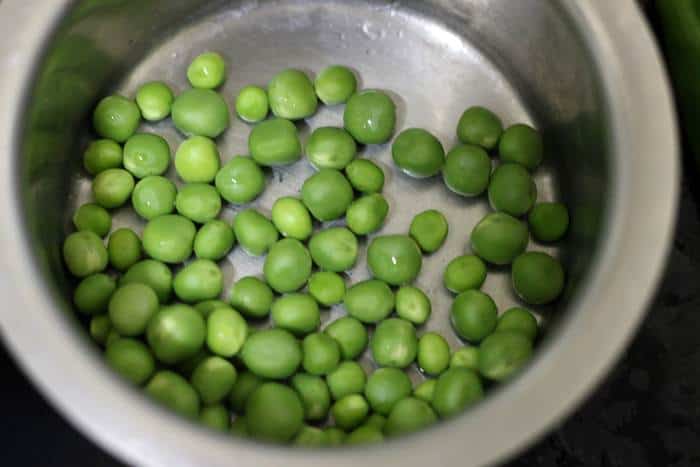 Separate cauliflower into florets.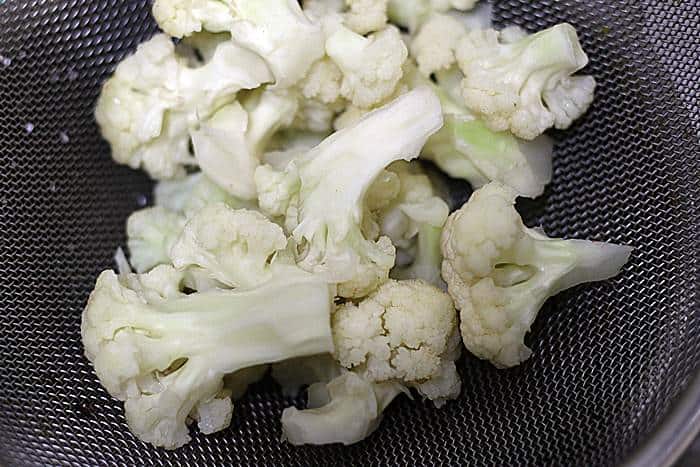 Heat 2 tablespoons oil in a pan. Add the chopped veggies.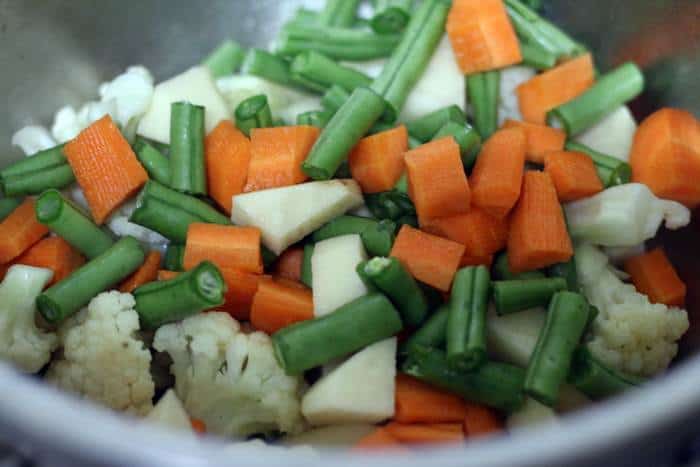 Saute well for 5-6 minutes over medium flame.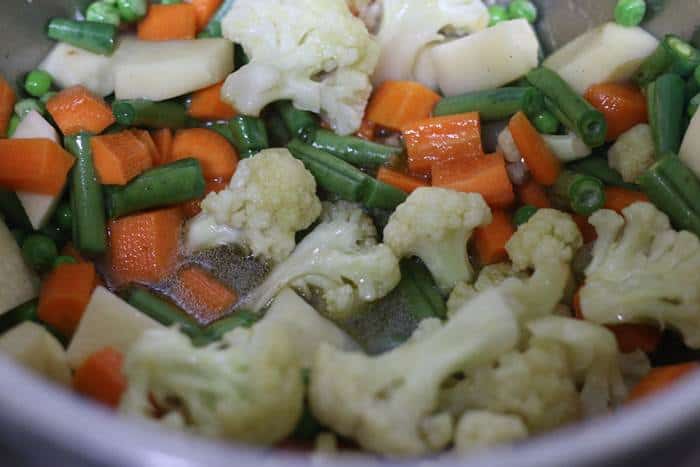 Add 1/4 cup water and cover the pan.
Cook until water is absorbed. Remove the cooked vegetables to a pan and retain the oil.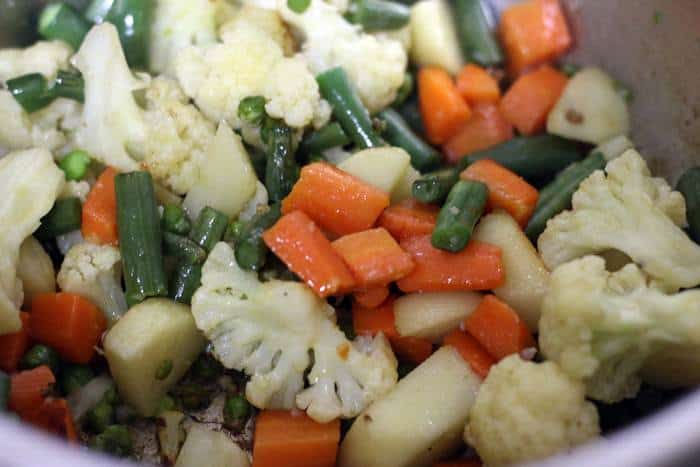 How To Make Korma Sauce
Add 15 almonds, 3 slit green chilies, peeled ginger, garlic 2 tablespoons roasted gram dal, 2 teaspoons cumin seeds in a small blender jar.
To that add 1/2 cup grated coconut and 1 small tomato, chopped. Instead of chopped tomato you can also add 1/4 cup tomato puree or 2 tablespoons tomato paste.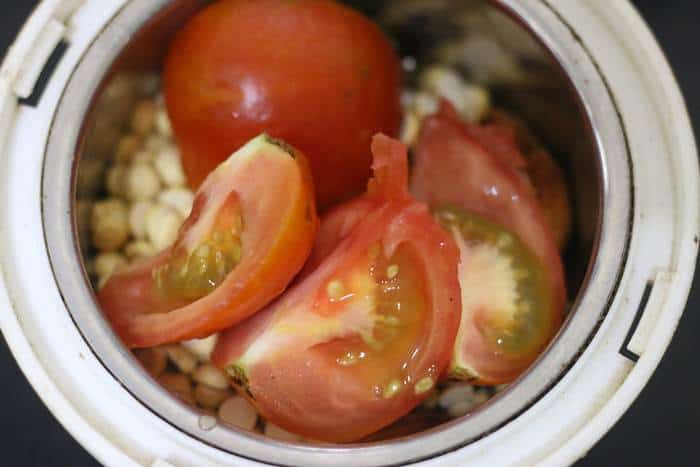 Grind to a very smooth paste.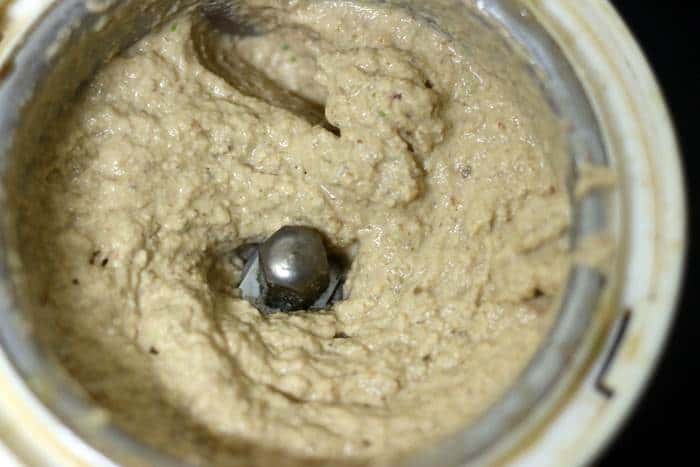 Your korma paste is ready. You will get around 1 cup paste and we will use the entire thing for this recipe.
How To Make Vegetable Kurma
Heat the same oil we used for sautéing vegetables.
Add whole spices and saute for minute.
Next add chopped onions and saute for 2 minutes.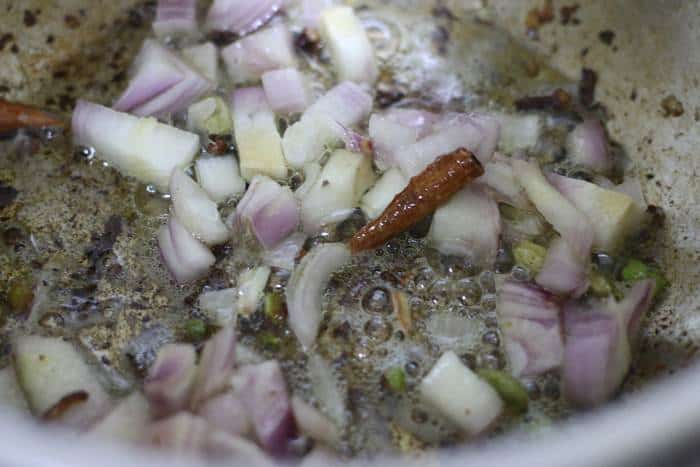 Now add the prepared korma sauce and saute for a minute.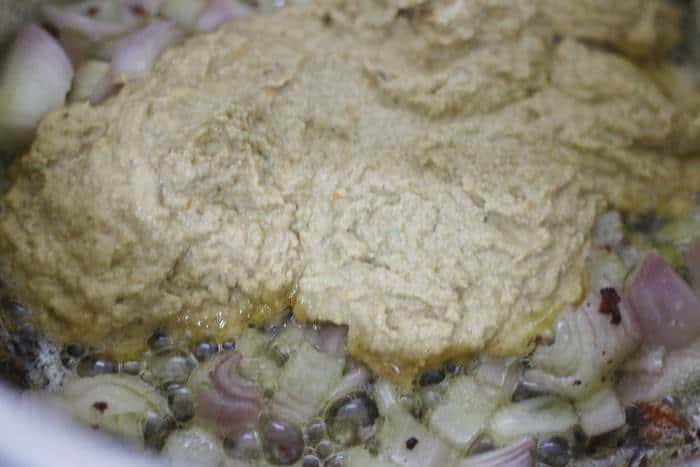 Add turmeric powder, red chili powder, salt and mix well. Add 1 cup water.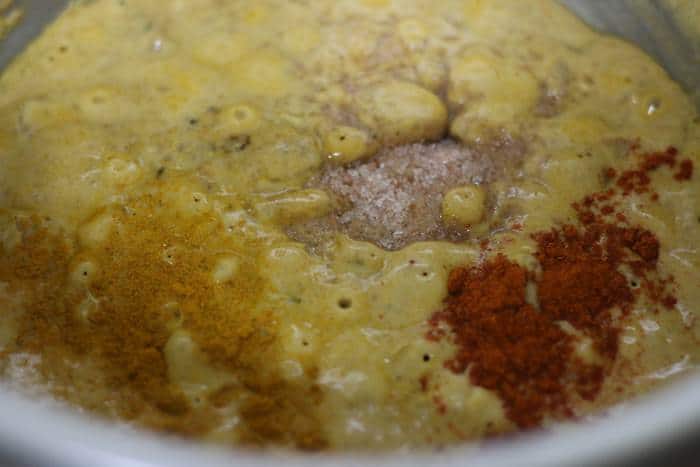 Now lower the flame and cook the korma sauce thoroughly until oil separates from the paste. This is the base for veg kurma.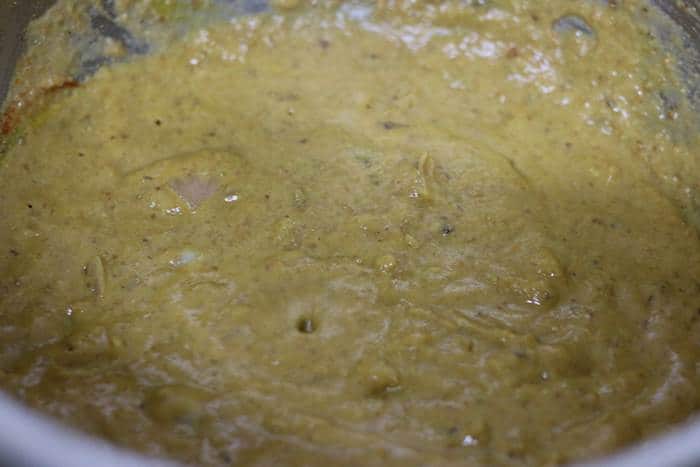 Once korma paste is well cooked, add sautéed vegetables.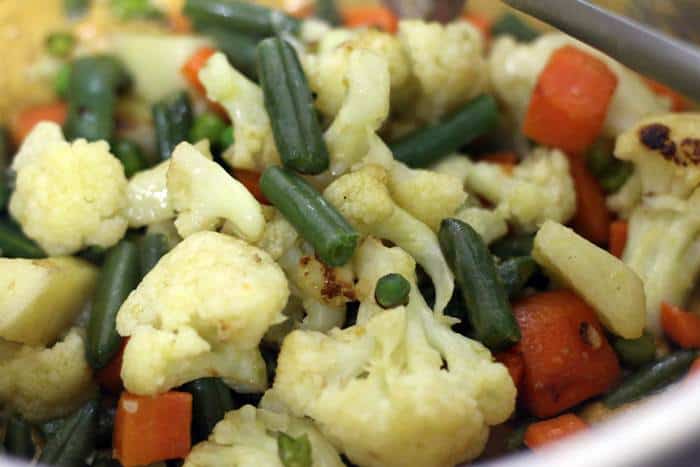 Mix well and cook in medium flame for 3-4miutes.
If the curry is very thick, you can add 1 cup water or 1 cup light coconut milk at this stage and cook for 3-4 more minutes.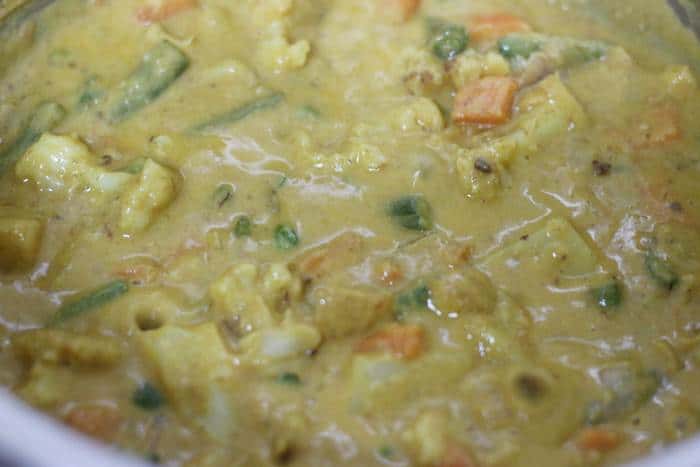 Add chopped cilantro leaves and mix well.
Serve veg kurma warm with rice or roti.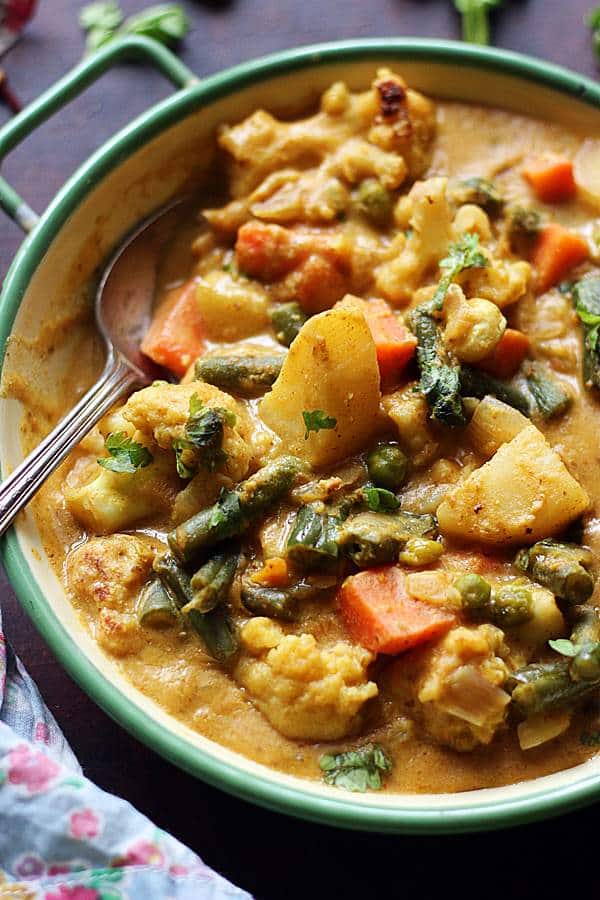 Make Veg Kurma In Instant Pot
To make vegetable kurma in instant pot prepare the spice paste and chop the vegetables as mentioned above.
Place the steel insert inside your instant pot and switch it on. Press saute mode. Once it displays hot add whole spices and saute for few seconds.
Next add the onions and saute, followed by spice paste. Add red chili powder, turmeric powder and salt, mix well. Saute well until oil separates. Add 1/2 cup water.
Now add the mix vegetables and mix well. Cancel saute and close the instant pot. Press pressure cook or manual mode and set time for 4 minutes.
Once the IP beeps, release pressure gently and open the IP. Mix gently and add little water if required. Add chopped cilantro leaves and mix well. Serve veg kurma gravy hot with rice or roti.
You can follow the same steps for making vegetable kurma recipe in pressure cooker.
Expert Tips
This is an easy great recipe but it does involve some prep time along with cook time. The total time for this recipe is under 45 minutes.
However you can make this recipes easily if you make sure to follow the below tips.
Nuts in kurma sauce– Use some nuts or poppy seeds in the sauce for rich taste. Adding a bit if poppy seeds make the korma paste very rich and creamy. I know poppy seeds are not preferred by everyone and in that case add nuts like almonds, cashew nuts. You can also add melon seeds for creamy sauce.
Whole spices– This veg kurma gets its flavor only from whole spices, so do not miss them. If you one or two variet from the listed spices, it ok. If you do not have whole spices handy use 2 teaspoons garam masala powder while making the curry.
Saute the paste well in oil– To get the real flavor of this vegetable korma curry , saute the paste very well in oil until fat separates from the sides. For elevated flavor you can also add some ghee with oil, again it will not be vegan though.
Go easy on seasonings- This curry gets all its flavor from whole spices, green chilies and coconut. The only spice powders we add in this recipe are turmeric powder and a bit of red chilli powder. If you don't have whole spices you can add garam masala powder.
If you want a spicier gravy you can add more green chilies in korma masala paste.
If you are adding garam masala powder, make sure it is of very good quality. Also add a small amount and add more only if needed, as some brands of garam masala powder is very strong.
A splash of coconut milk increases the taste– Along with adding grated coconut in the korma paste, you can also add 2 tablespoons coconut milk in this recipe. It increased the richness and creaminess. You can also add almond milk in this recipe. I have not used coconut milk here.
For a pronounced coconut flavor you can use coconut oil instead of regular oil. Next fresh coriander leaves add wonderful flavor to this kurma masala recipe.
Vegan and gluten free– This south Indian kurma recipe as such is vegan and gluten free. If you like you can add 1/4 cup yogurt after adding korma sauce and simmer for few minutes. Your delicious vegan kurma is ready to serve.
Storing Leftovers
This vegetable korma keeps well for 2 days in refrigerator. Store in airtight container and reheat gently while serving.
The korma paste freezes really well. You can store in small portioned containers and thaw as required.
To make vegetable korma, remove the paste from freezer and gently reheat in some oil, add cooked veggies and mix.
Serving Suggestions
This flavorful veg korma goes absolutely well with all breakfast south Indian like neer dosa, parotta, idiyappam etc.
This curry also tastes delicious with Indian coconut rice, poori, etc.
Are you making this recipe? I would love to see a snap of your creation too. Do snap a pic and share on Instagram with hashtag #cookclickndevou and please give a star rating ★ in the recipe card above. Follow us on Pinterest , Instagram, Facebook for more recipes and ideas.
Recipe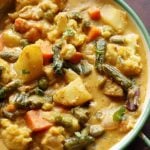 Vegetable Korma
Prevent your screen from going dark
Harini
Delicious vegetable korma made with mixed vegetables and fresh korma sauce. Big hearty chunks of veggies like potato, cauliflower, carrot beans simmered in a very flavorful south Indian style sauce. Vegan and gluten free. Ready in under 45 minutes total time
1 CUP = 250 ml
Ingredients
Other ingredients for veg korma
Instructions
How to make vegetable korma
Notes
Scaling Up.
You can double or halve the recipe.
Do not make the korma very thick as it thickens on cooling.
Make Ahead & Freezing.
This vegetable korma keeps well for 2 days in refrigerator. Store in airtight container and reheat gently while serving.
The korma paste freezes really well. You can store in small portioned containers and thaw as required. To make vegetabe korma, remove the paste from freezer and gently reheat in some oil, add cooked veggies and mix.
Serving Suggestions
Serve vegetable korma with parotta, naan, roti or basmati rice.
You can also serve this curry with ghee rice, peas pulao etc.
Nutrition
Serving: 3gCalories: 238kcalCarbohydrates: 11gProtein: 3gFat: 22gSaturated Fat: 9gSodium: 123mgPotassium: 272mgFiber: 6gSugar: 3gVitamin A: 268IUVitamin C: 19mgCalcium: 48mgIron: 2mg
Tried this recipe? Snap a pic and share 🙂
Mention cookclickndevou or tag cookclickndevour