Rasmalai is one of the most popular Indian milk based sweets. Soft, juicy, melt in mouth with a heady flavor of saffron and cardamom, what's not to love :). Ras malai is a Bengali milk sweet that is a super hit with everyone.
Here is how to make soft and juicy rasmalai recipe at home easily with few ridiculously simple ingredients, yup all you need are milk and sugar  🙂 This is a keeper recipe that you can easily make even if you are novice in kitchen.
For more Indian sweet Recipes please check Jalebi, gulab jamun, kaju katli, sooji halwa recipes.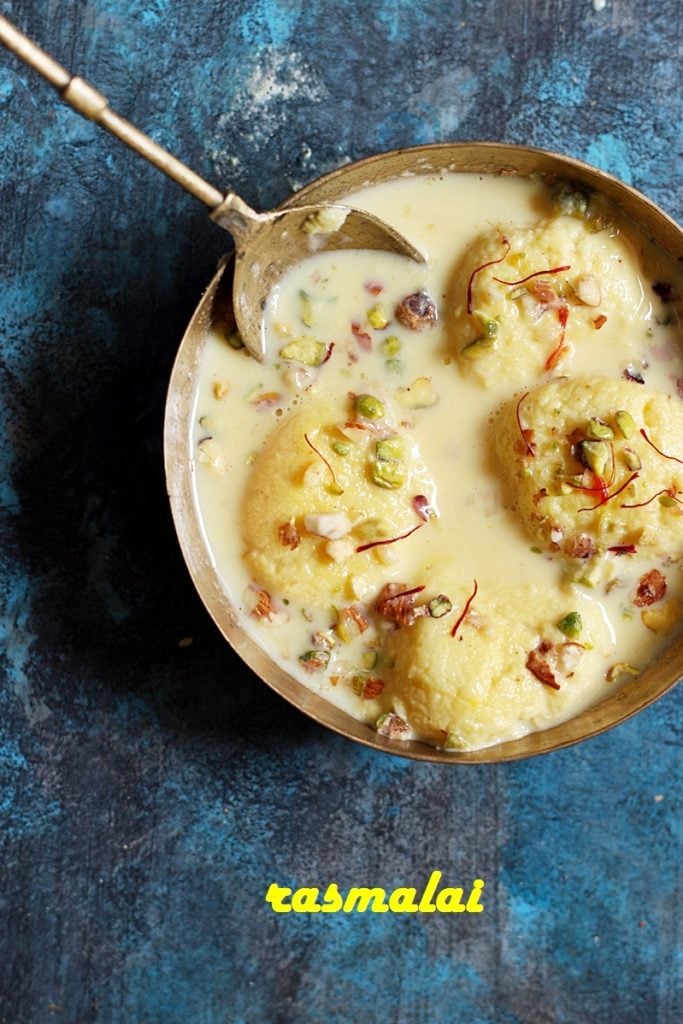 If you love Indian sweets, chances are great that you are a fan of Bengali sweets. rasgulla, sandesh, malai ladoo, rasmalai, malpua, chum chum are a few to name, yum!
Of all these sweets rasgulla and rasmalai sweet are my all time favorite. I can easily loose count and keep gobbling these little melt in mouth treat!
It is easy to make rasmalai recipe at home is really easy, a bit time consuming though if you make rasgulla from scratch. However there is an easy shortcut to make this recipe in 15 minutes. Here I am sharing with you both the methods.
When ever I have leftover milk, rasgulla and rasmalai recipe are my go to choices. Here I am sharing my easy keeper recipe that yields best rasmalai every time, enjoy!
So What Is Rasmalai?
Rasmalai or rosh malai or rossomalai is a popular Indian milk sweet from West Bengal. Ras means juice and malai means milk cream. So the literal meaning would be juicy milk cream.
Rasmalai is a classic Indian dessert made for festivals and celebrations. It is made of full cream milk, an acidic ingredient like lemon juice, vinegar or yogurt to curdle the milk, cardamom, saffron and some nuts to garnish.
To make rasmalaai you need very basic and minimum ingredients . All you need are
whole milk
acidic agent to curdle the milk like lemon juice, yogurt or citric acid
sugar
few saffron strands, cardamom
chopped nuts for garnish
Can't you tell this sweet is rich and royal already by one look at the ingredients?
As I have mentioned above, making rasmalai is easy but a bit tricky to make it super soft, melt in mouth and juicy. It all starts with making perfect rasgulla. If that is tackled, half the work is done 🙂
In this post I am sharing all the tips and tricks I have learnt over the years along with this dessert easy rasmalai recipe that has been perfected with many trials. This is an absolute favorite with my husband and daughter 🙂
I assure you if you follow these steps with a bit of patience you can easily recreate halwai or mithai shop style rasmalai at home easily.
Can't you tell how soft and juicy these are by looking at these ras malai pics 🙂
This sweet tastes excellent when served super cold. I usually make this and refrigerate overnight for next days dessert after lunch.
A lovely delicious treat this would be after a hearty meal like biryani, pilaf or naan, paneer butter masala likes. Here is my recipe with step by step photos.
This Rasmalai Recipe Is
Soft, juicy melt in mouth- seriously the best
All tips, tricks and trouble shooting covered
broke down in easy steps, simple to follow
Rich and creamy
flavored with saffron and cardamom
a sweet that is truly royal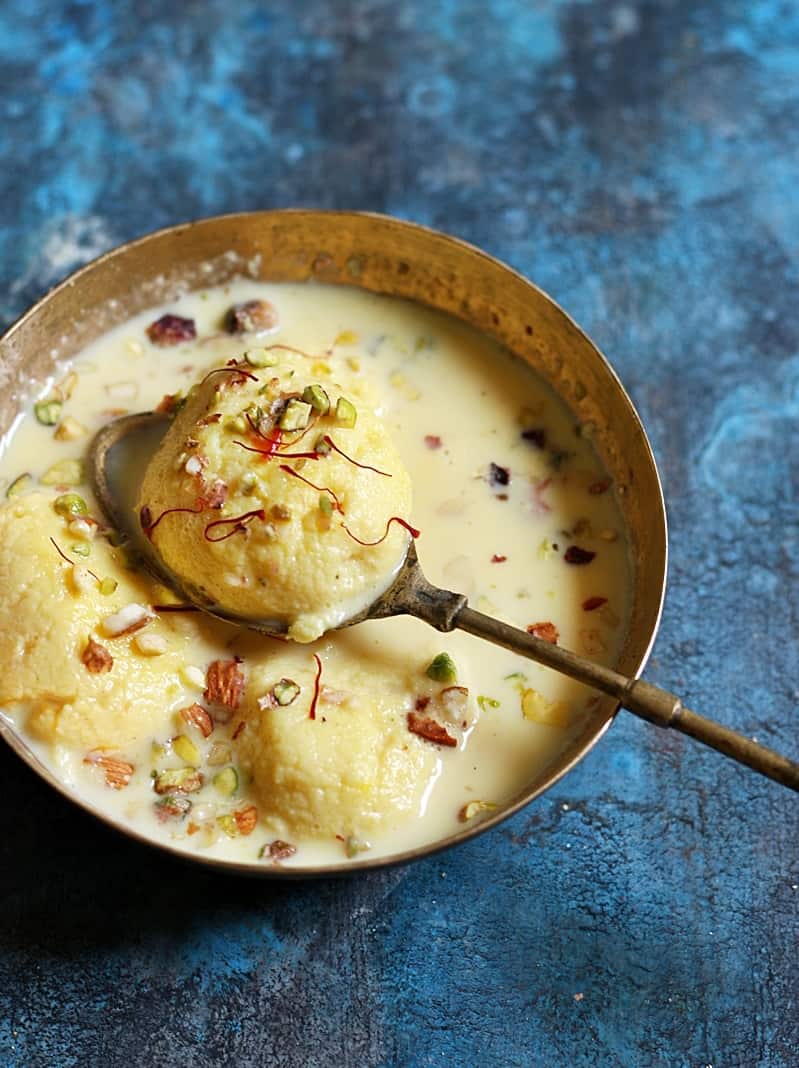 Before we begin with this Indian dessert rasmalai recipe recipe set aside plenty of time and be prepared for some good stirring and kneading.
While the steps are fairly simple like boiling, reducing the milk etc, you need to take some time with all the steps to make rasmalai that is perfectly spongy and melt in mouth.
Also use heavy bottomed deep pan big enough for boiling rasgulla as well as making ras malai. I use big pressure cooked base for both steps. 
Now you are armed up with initial tips, let us take a detailed look on ingredients for rasmalai.
Ingredients For Ras Malai
Milk– whole cream and we shall not have it any other way :). 
If you want to make best full bodied rasmali that does not fall flat while boiling or tastes super rich and creamy use full fat or whole cream cow's milk or buffalo milk. Also if possible source non homogenized non pasteurized milk for best texture and taste.
Again for making reduced flavored milk or rabdi for rasmalai recipe, we need full fat milk. Here in this step you can also add some condensed milk for richer and creamier taste. I always use whole cow's milk to make rasmalai recipe.
Lemon Juice
You can use lemon juice or curd or vinegar to curdle the milk. I prefer to use curd as it yields more soft chenna. Also if using lemon juice you need to rinse the strained milk solids with cold water to remove sour after taste. You can also use a pinch of citric acid.
Sugar- Use granulated white sugar or raw organic sugar. If you use organic sugar, the color of rasgulla and rasmalai will be a bit darker.
cardamom, saffron strands and nuts- for flavor and garnishing. You can use cardamom powder or crushed cardamom pods. I like to use slivered almonds and pistachios for garnishing this dessert.
Making rasmalai at home can be divided into three steps.
make the chenna or milk solid balls. These are also called as paneer balls or cottage cheese balls.
make the ras (reduced sweetened milk) and simmer the balls in it.
third step would be refrigerating it for at least 6 hours before serving.
Method-1
How To Make Rasmalai Recipe
Since this is long process and takes quite some time, I take two days to make this Indian dessert. I usually prepare the rasgulla a day before and make ras malai next day.
Making chenna or milk solids – Preparation For Rasmalai
Heat milk in a pan. Bring the whole milk to a boil in a wide pan.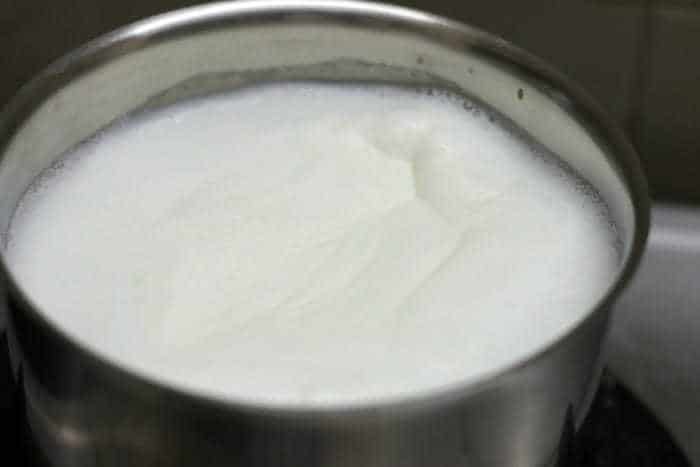 As it starts to boil, lower the flame and add lemon juice. mix well and keep stirring until the milk curdles completely. Once the milk curdles completely and all whey is separated, remove from flame.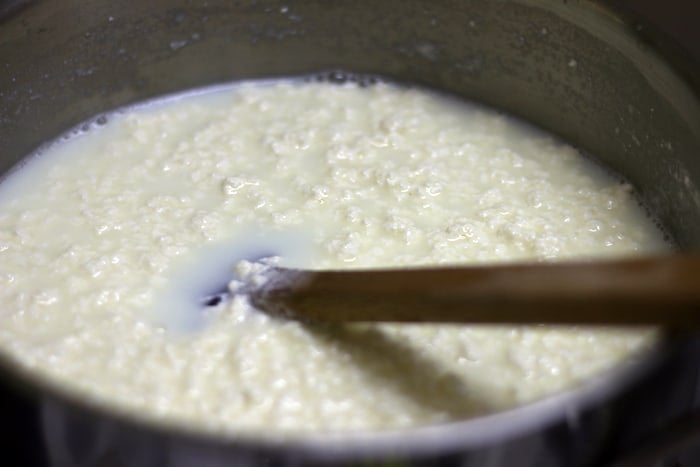 Next to separate all the whey from chenna, line a colander with two layers of cheesecloth or cotton cloth. Pour the curdled milk into the prepared colander. Set aside for 5 minutes.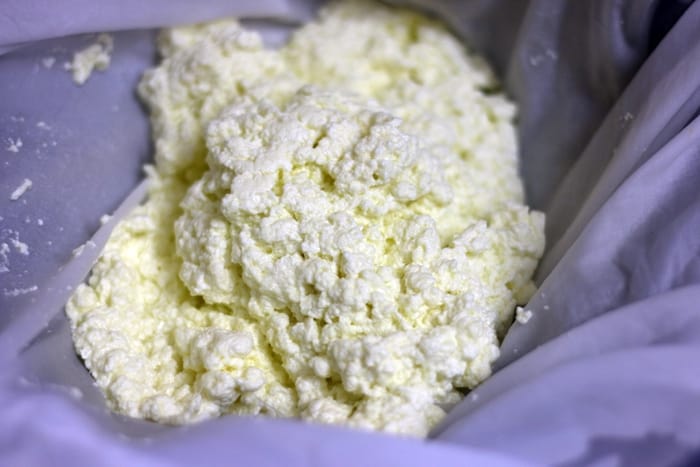 Now bring the edges of the cloth together rinse under cold water several times. This step will remove any sour taste from lemon juice.
Now hang this over a hook or tap as seen in the photo for around 30-45 minutes.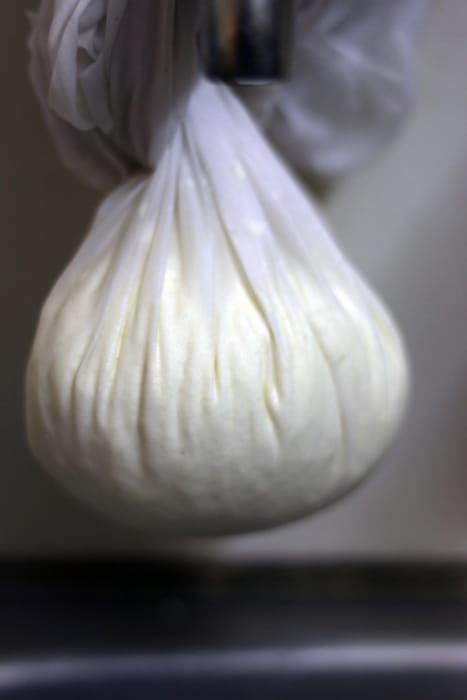 once all the whey is drained collect the milk solid from the cloth.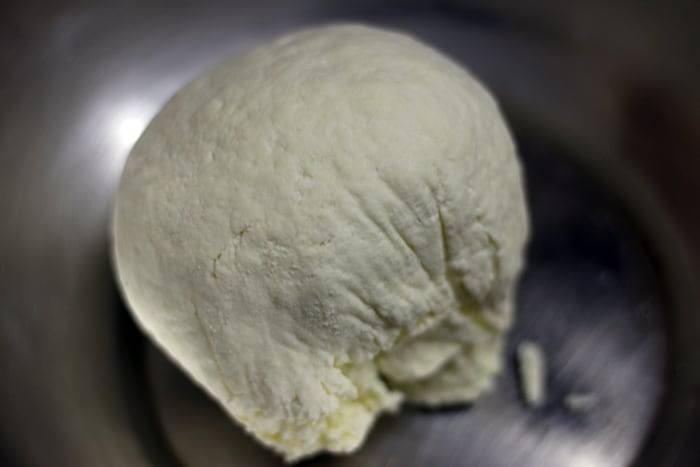 step 2- Shaping chenna balls and boiling in sugar syrup
Now we will knead the prepared chenna and make it soft and smooth.
Take the chenna mass in a wide plate and start kneading. Knead for around 5-6 minutes by stretching and bringing it back. Knead until it starts to release a bit of fat. but do not over knead as it will result in chewy rasmalai balls.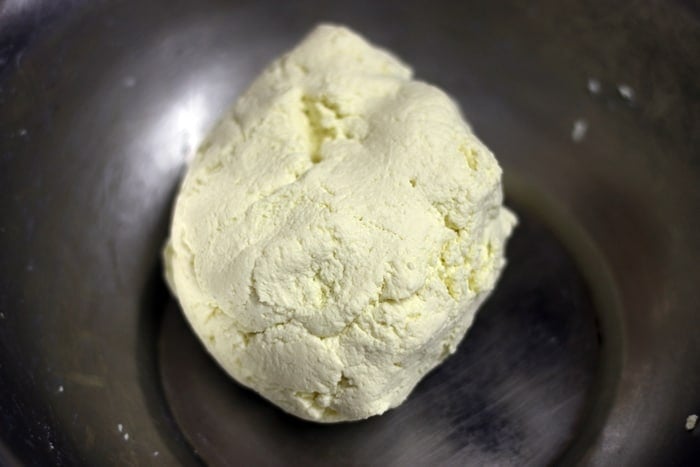 Now make around 20 small balls from the kneaded chenna and set aside.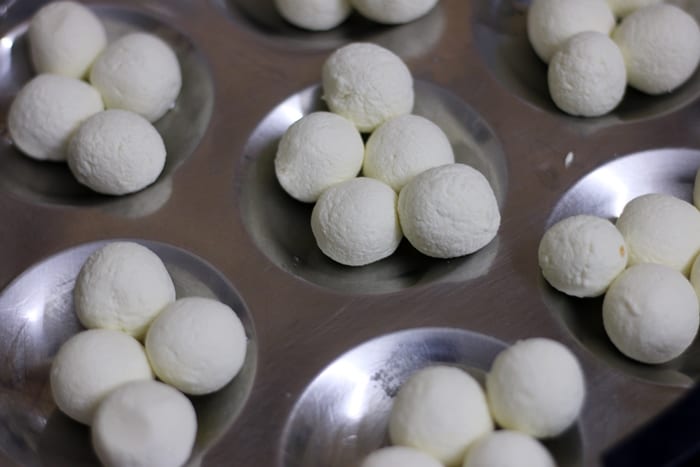 In the meanwhile combine 1 3/4 cup sugar and 4 cups water in a big pan.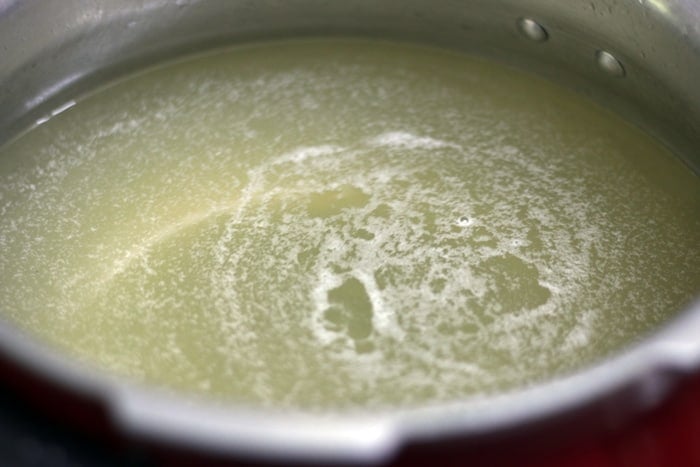 Cook until the sugar is completely dissolved and the syrup starts to boil. At this stage add 1 tsp cardamom powder and rose water. Mix well. Now slide the prepared rasmalai balls to the boiling sugar syrup and cover the pan.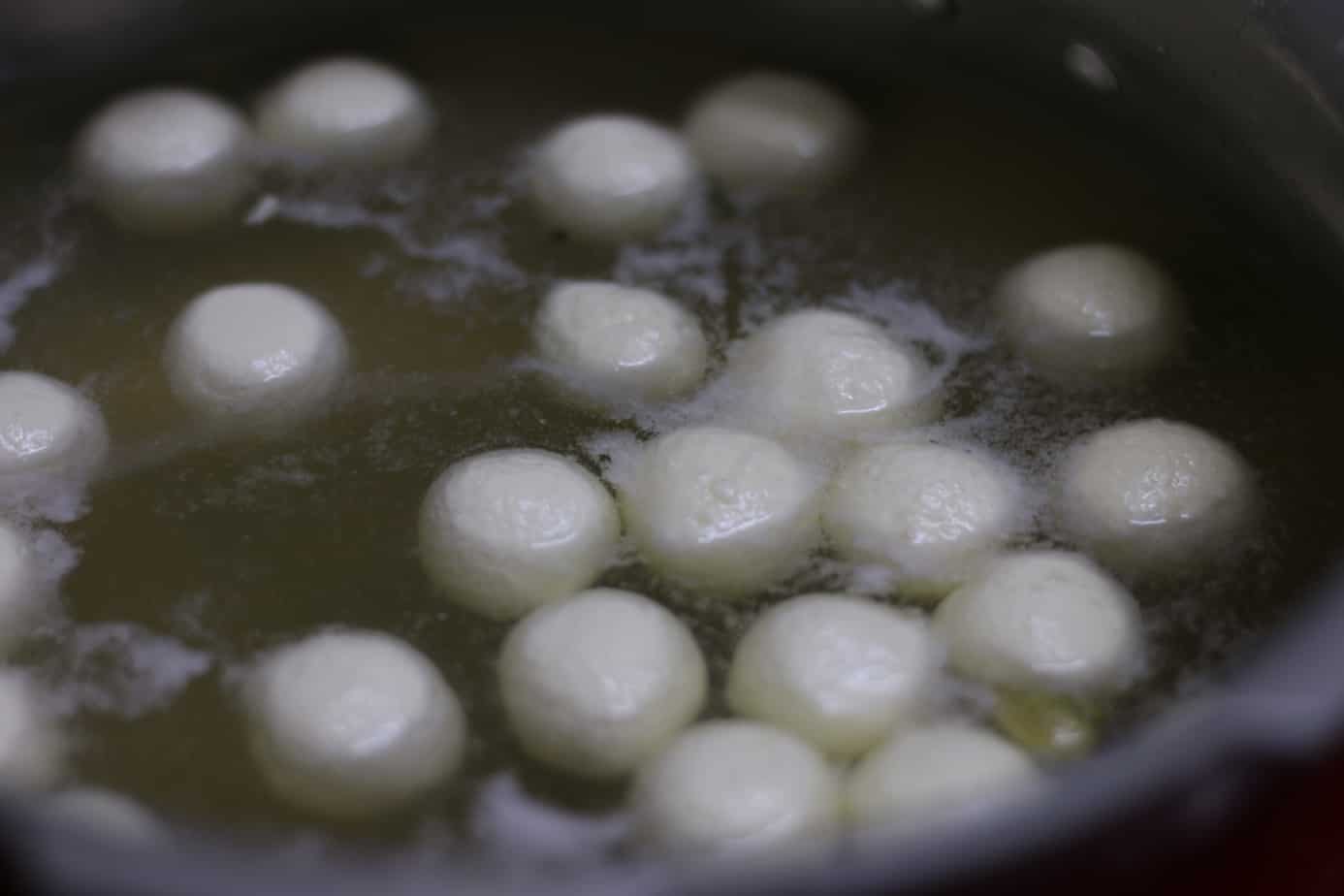 Cook for around 12-14 minutes or until the chenna balls soak up sugar syrup and doubles in size.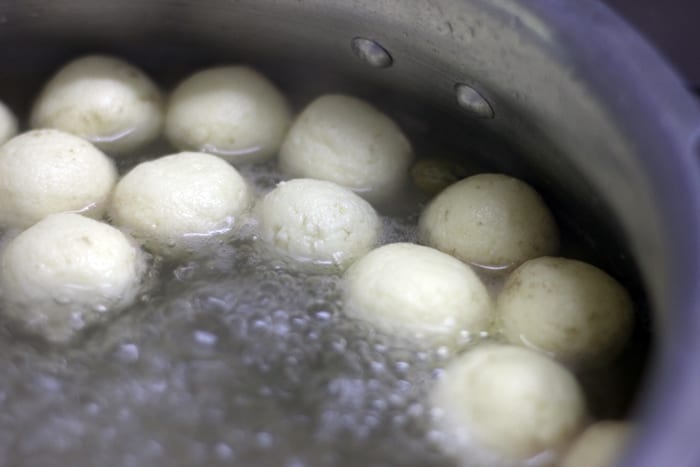 Remove from sugar syrup gently and let cool thoroughly.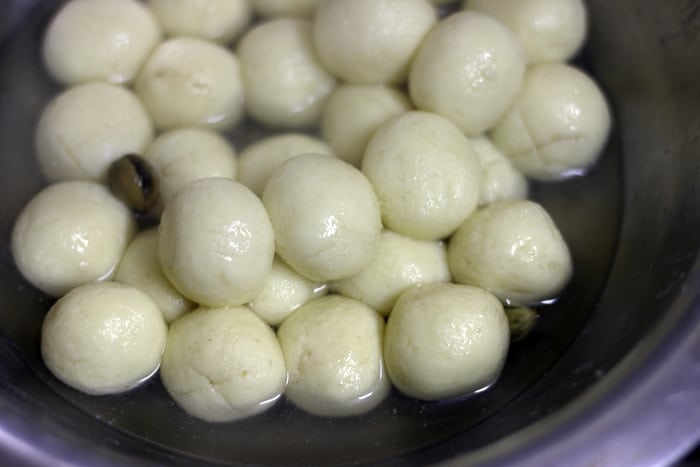 You can make these rasgullas a day ahead and refrigerate and continue making ras malai the other day.
Making Sweetened Milk Or Ras
The final step of this soft rasmalai recipe is to make sweetened reduced milk or ras.
Soak a bog pinch of saffron in1/4 cup warm milk for 15 minutes.
Bring 2 cups full fat milk to a boil. You can also use 1 cup milk and 1 cup condensed milk. In that case avoid sugar.
While the milk is boiling add the saffron milk to it and mix well. Now add sugar and mix.
Once done maintain medium flame and cook till the milk condneses and reaches 1/3 of its quantity. Make sure to scrape the malai or cream that sediments in the walls of the vessel. Malai is what makes the ras or sweetened milk super creamy and results in creamiest ras malai.
Now add the chilled ramalai balls we prepared earlier and simmer for 2 minutes. Do note that the milk should be reduced but not super thick. The paneer balls will be able to absorb the milk only if it is a bit thin.
Remove from flame and cool thoroughly. Once it reaches room temperature, refrigerate for at least three hours before serving ras malai. Serve chilled rasmalai along with ras, garnished with slivered nuts.
Method-2
Easy Rasmalai Recipe In 10 Minutes
This is a super quick and easy recipe of making soft rasmalai in 10 mins with store bought rasgullas.
First of all prepare rasgullas as mentioned here. You can also use store bought rasgullas.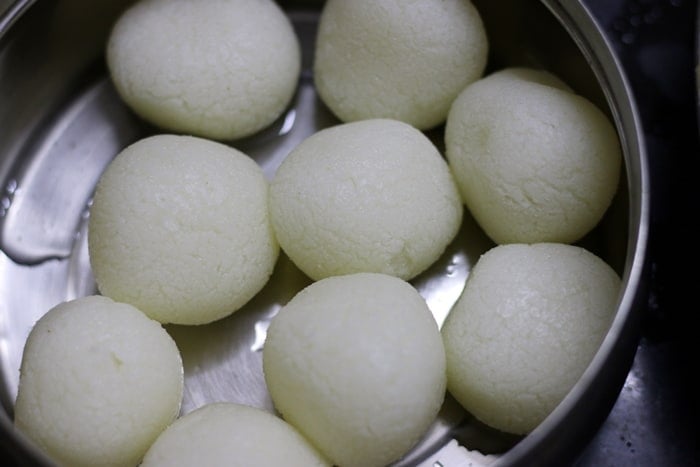 Gently squeeze the rasgullas to remove excess sugar syrup and set aside. If there is more syrup, then the rasgullas will not absorb the rabdi.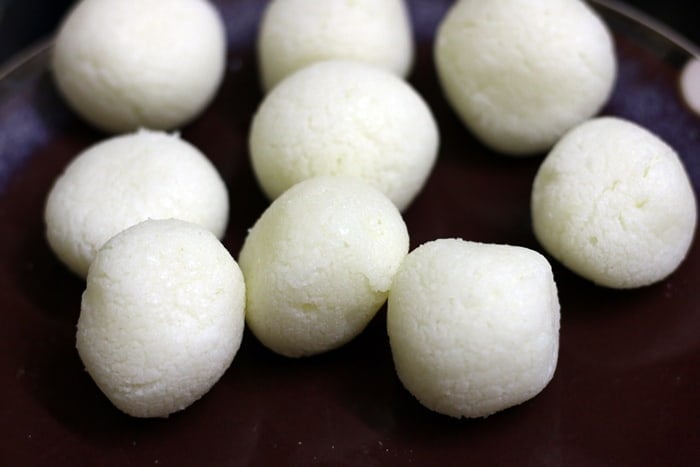 Now take 1 cup milk in a thick pan and add a 400 grams of condensed milk to it. Now add the other 1/2 cup milk. Mix well and bring to a boil. Simmer for 10 minutes until the rabri thickens. Add crushed saffron and cardamom powder. Mix well. You can also make this saffron milk and add condensed milk to it.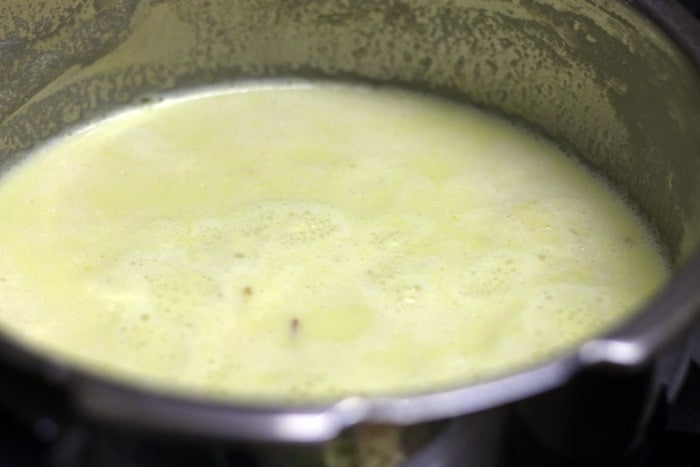 Next add the squeezed rasgullas gently to the thickened milk and close the pan. Simmer for 2 minutes.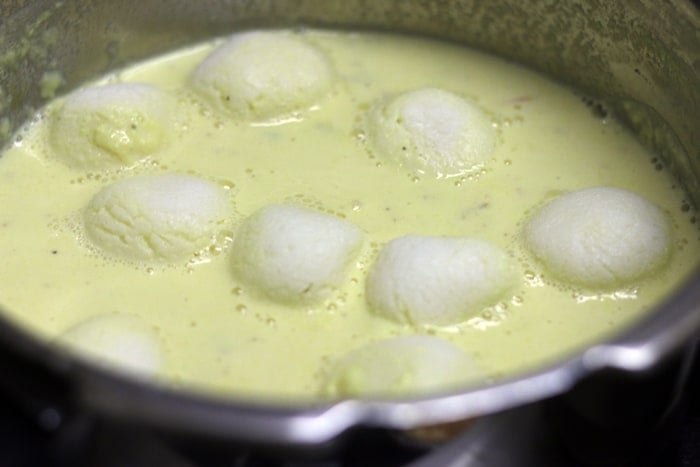 Let the rasgullas come to room temperature and then refrigerate at least for 2 hours before serving. While serving serve ras malai along with rabri, topped with nuts.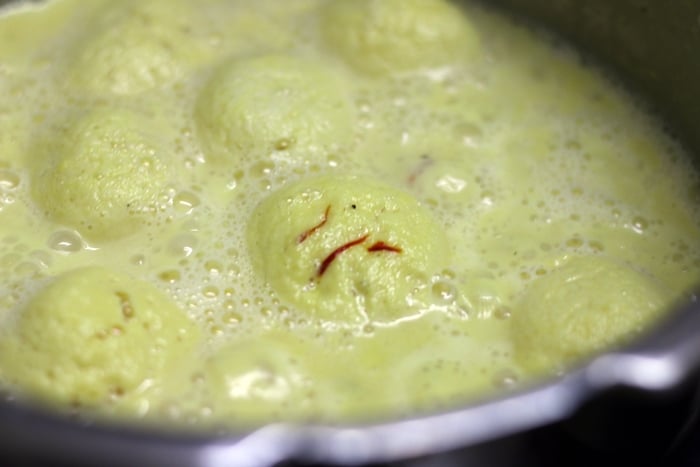 Serve rasmalai chilled with sliced nuts.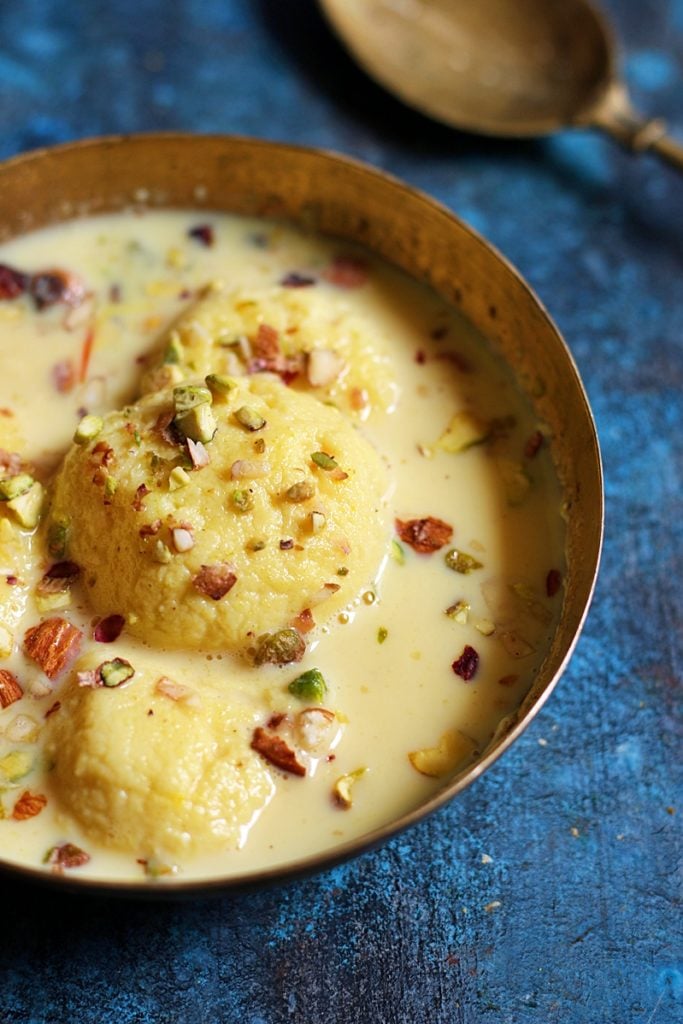 Tips To Make Soft Rasmalai
Making chenna-
To make rasmalai recipe that melts in mouth and soft , making super soft chenna is the key. The milk solids you get by straining the curdled milk is called chenna. This is also the base for making paneer or cottage cheese.
Now as the chenna balls are nothing but milk solids, do use full fat whole milk for soft chenna.
Try to use non homogenized milk that is milk locally sourced without additives or pasteurization. This milk contains more fat and yields really best rasmalai. My mom always uses non homogenized milk to make this recipe.
You can also use packed milk but use only whole milk.
As soon the milk comes to a boil, switch off the flame and add lemon juice.
After adding lemon juice, mix gently and wait for few minutes for whey to separate fully. 
Then strain the milk solids from whey using a muslin cloth placed over a strainer.
Rest for 30 minutes and there you have perfect chenna for  ras malai sweet.
Kneading chenna-
Next stage in our recipe is kneading chenna. Once you have drained the whey from milk solids for around 30 minutes, knead the milk solids well for 5-6 minutes. 
I don't prefer to add milk powder or corn starch or maida with chenna, that is what they do in shops and we don't have to in homemade rasmalai. Just stretch and knead the chenna for 5-6 minutes but not more than that. As you knead some fat will release from chenna and that's when you stop.
After kneading make small balls and they will be boiled in sugar syrup. I don't prefer to make flat discs from chenna as mentioned in few recipes. I just make small balls like traditional rasgulla as they swell up and doubled in size.
If you make flat discs sometimes they turn hard and rubbery unlike chenna balls.
Making ras or reduced milk-
use a heavy bottomed pan like pressure cooker base or non stick pan.
you can cook this reduced milk in high flame itself but keep stirring and keep a watch to avoid burning.
You can reduce sugar but rasmalai tastes best when it is made on the sweeter side.
Before soaking chenna balls in this sweet milk, squeeze out as much syrup as possible.
Make very sure the sweetened chenna balls is cold while adding to the sweet milk.
Frequently Asked Questions
Why do my chenna balls dissolve in sugar syrup?- 
If the chenna balls break while boiling in sugar syrup, chances are
1. the whey was not separated completely from the milk solids
2. you did not roll the balls very smooth. If there are cracks in shaped balls, water will get inside and they will dissolve in sugar syrup.
Why are my chenna balls hard?
If you knead the chenna balls for a long time than required, the balls will be dense and hard on cooking in sugar syrup. Knead the chenna for not more than 6 minutes. Also do not exert too much pressure while kneading the chenna.
This is an important tip as over kneaded chenna will result in rubbery discs instead of soft melt in mouth ones.
How do I know all the whey has dripped of from chenna?
Usually it takes anywhere around 30-45 minutes for the whey to drain from milk solids or chenna completely. After that time the chenna will be crumbly, grainly and has very less moisture.
If is very sticky like a dough, you need to let it sit for few more minutes.
Why do my rasmalai turn hard on chilling?
If you knead the chenna more than required or boil them for long time in sugar syrup will result in hard rasgulla. On the other hand if you simmer the discs in sweetened milk for long time, the ras malai will turn hard on refrigerating.
Is rasmalai eaten hot or cold
It tastes best thoroughly chilled as dessert. It tastes best thoroughly chilled as dessert, generously topped with sweetened thickened milk.
Can I use Store bought paneer for making rasmalai,
I would not recommend using store bought paneer for this recipe.
More Indian Sweets
Are you making this recipe? I would love to see a snap of your creation too. Do snap a pic and share on Instagram with hashtag #cookclickndevou and please give a star rating ★ in the recipe card above. Follow us on Pinterest , Instagram, Facebook   for more recipes and ideas.
Recipe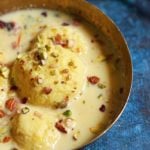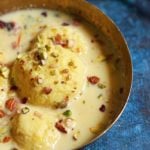 Soft Rasmalai Recipe
Prevent your screen from going dark
Harini
Rasmalai is a popular Bengalai sweet with fresh chenna or Indian cottage cheese as main ingredient. Make Soft, spongy, delicious and melt in mouth ras malai with my easy recipe.
1 CUP = 250 ml
Ingredients 
For Making chenna and sugar syrup
For making ras for rasmalai
Instructions 
Making chenna or milk solids
Preparing ras malai balls and boiling in sugar syrup
Notes
You can double the recipe
Nutrition
Serving: 20rasmalaiCalories: 136kcalCarbohydrates: 27gProtein: 3gFat: 3gSaturated Fat: 1gCholesterol: 8mgSodium: 34mgPotassium: 108mgFiber: 1gSugar: 26gVitamin A: 128IUVitamin C: 1mgCalcium: 91mgIron: 1mg
Tried this recipe? Snap a pic and share 🙂
Mention cookclickndevou or tag cookclickndevour
(function(d, s, id) {
var js, fjs = d.getElementsByTagName(s)[0];
if (d.getElementById(id)) return;
js = d.createElement(s); js.id = id;
js.src = "//connect.facebook.net/en_US/sdk.js#xfbml=1&version=v2.3&appId=165812776837774";
fjs.parentNode.insertBefore(js, fjs);
}(document, 'script', 'facebook-jssdk'));