Mango lassi is a popular summer drink made with ripe sweet mangoes, yogurt, sugar and a dash of cardamom, saffron. You can also add few drops of rose water just like my favorite north Indian restaurant does.
Thick, creamy and yummy, enjoy this quintessential Indian summer drink with king of fruits! All you need are three main ingredients, flavors and garnish of your choice to make mango lassi, this yummy soothing drink.
Wanna avoid dairy? I have also included notes for making this mango lassi vegan, do check out!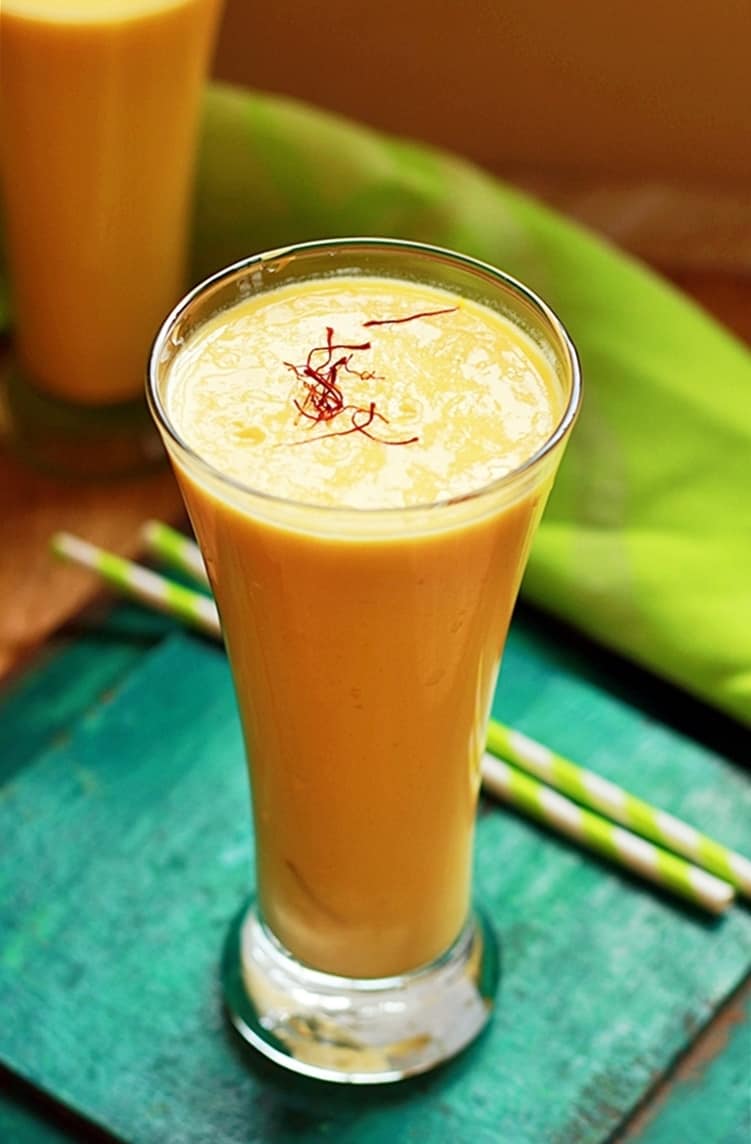 Instead of consuming sugar loaded store bought colas and cold drinks, we prefer homemade beverages like fruit punch, fresh pineapple juice, mint lemonade, rose lemonade etc. We go through pitchers and pitchers of panakam too during summers.
During summers, all we want are cooling drinks and desserts to keep the heat at bay. Indian summer is no joke. Apart from making you extremely uncomfortable, you will also be dehydrated very easily.
So it is very important to drink loads of water, yes you have to make that conscious effort to maintain hydration.
However uncomfortable it may be, summer also means mangoes 🙂 I can literally live on mangoes during season. Apart from having as such we make delicious treats like mango ice cream, smoothie, falooda, mastini, cheese cake and many more yummy mango recipes.
But if you have to choose one mango treat that will bring a smile on everyone's face it will be this mango lassi 🙂 This delicious, thick and creamy drink with unmistakable mango flavor is a top favorite with many people.
About This Recipe
Mango lassi is a creamy, rich and tasty variation of classic sweet lassi with ripe mangoes. It is one of the popular beverages for Indian summers especially with mango, a favorite fruit among many people.
Lassi is a delicious creamy thick drink with yogurt from Indian subcontinent. It may be sweet or salty. Basic lassi is made just with yogurt and sugar with a splash of cold milk to cut the sour taste a bit may be. Sweet lassis are often made with fresh seasonal fruits.
Lassi is big in Punjab. There are so many varieties of lassi like salted lassi, sweet lassi and many more fruit flavored ones like strawberry, mango, gulkand etc.
Coming to this traditional mango lassi, it is a super thick, creamy dessert drink with sweet ripe mangoes blended with thick fresh yogurt and sugar. You can top this drink with slivered pistachios, saffron or finely chopped fresh mangoes.
This delicious and best tasting mango lassi is a very popular drink not only in India but also in USA and other countries.
If you don't have access to excellent fresh very ripe mango you can use canned mango pulp. If you are using sweetened pulp make sure to add less sugar.
Also make sure to select best quality mango pulp for best flavor. I have once used a very good quality canned mango pulp from kesar mangoes to make mango lassi and loved it. I mostly make lassi with fresh Indian mangoes only though.
Instead of fresh mangoes you can also use frozen mango cubes. During season you can peel, cube and freeze mangoes to use later.
Do try out this easy mango lassi recipe and enjoy. It is
Creamy, rich & thick
Best dessert after Indian food.
So easy to make, almost effortless
Vegetarian & gluten free
Can be easily made vegan
Healthy & wholesome summer drink.
What Is Mango Lassi Made of?
Now there are many variations with mango lassis. You can make mango lassi with
only mango, sugar and yogurt
A splash of milk along with yogurt if you do not want your lassi too tangy
to make this even rich you can add some fresh or whipped cream
another interesting choice is to add 1-2 tablespoons condensed milk
to make vegan mango lassi you can use non dairy yogurt like soy yogurt o r almond milk yogurt too.
It is basically yogurt based drink so make sure to use very good quality fresh yogurt that is not sour.
Flavoring Options
There are plenty of ways for you to flavor the drink when making mango lassi recipe.
Here I have used a pinch of ground cardamom powder and saffron. Few more options are
Rose essence or rose water
Just sugar and cardamom powder.
kewra extract
vanilla works so well in this drink
Add few mint leaves as garnish.
Even other spices like ground cinnamon can be used for different flavor note
This drink is an excellent one for toddlers and kids. Mango is a very healthy and nutritious but increases body heat. While serving for kids it is good idea to combine it with yogurt as lassi or milk as mango milkshake or this mango milk.
During summer whenever I make Punjabi fare like butter naan, paneer masala and all, this lassi also adds to the menu without fail 🙂 It is my go to drink in north Indian restaurants.
As I said above there are many variations with this recipe. I always add a bit of fresh cream and little milk in my lassi along with yogurt.
The best mango lassi I tastes was in a Punjabi restaurant in Bangalore. I still remember the taste lingering 🙂 Ice cold, thick and rich, not overly tangy at all with generous touch of cardamom and pinch of ground saffron. This recipe comes so close 🙂 It is our favorite drink with us.
Do follow this mango lassi recipe with step by step photo and prepare this excellent drink with king of fruits. I am sure you will love this recipe as much as we do 🙂
How To Make Mango Lassi Recipe
Peel and chop the mangoes roughly. Add the mango cubes to a blender jar.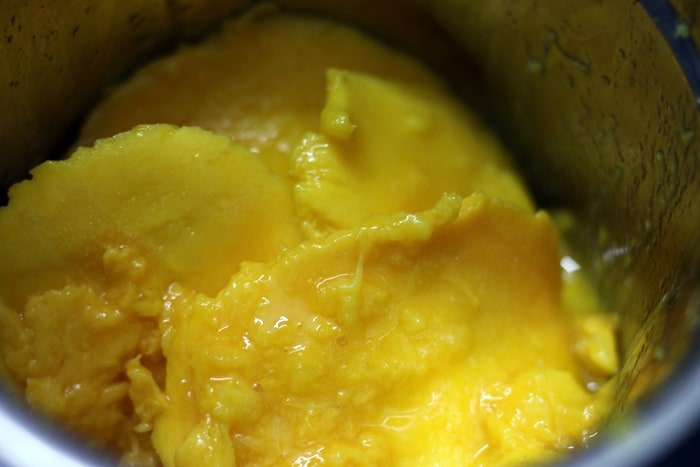 Add sugar to the chopped mangoes. Blend thoroughly.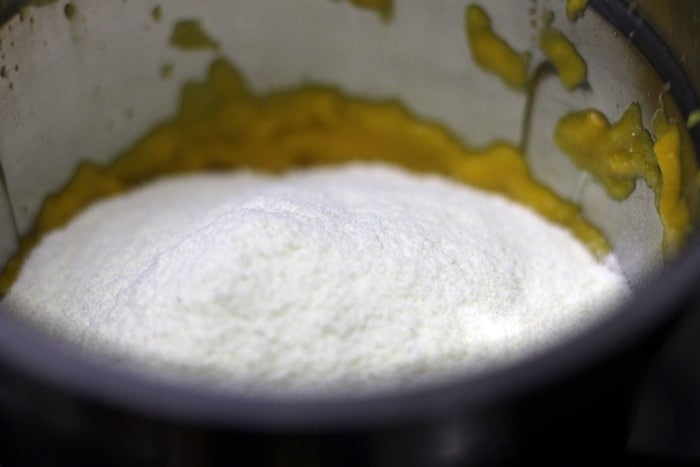 Add 1 cup plain yogurt, fresh cream or cold milk and blend well. Add cardamom powder or crushed cardamom pods, remaining yogurt and blend again. You can also add few ice cubes but it will thin down the lassi.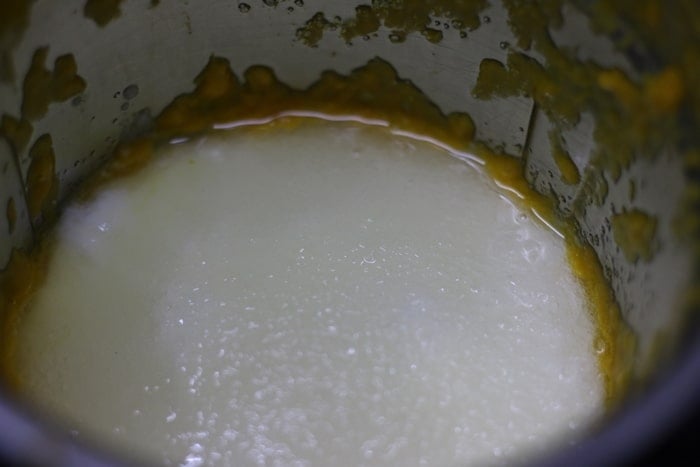 Pour mango lassi to a serving glasses. Enjoy mangoes in the form of this delicious lassi 🙂
Garnish with saffron strands. Serve immediately. This drink is best served chilled so make sure all the ingredients are cold before you blend.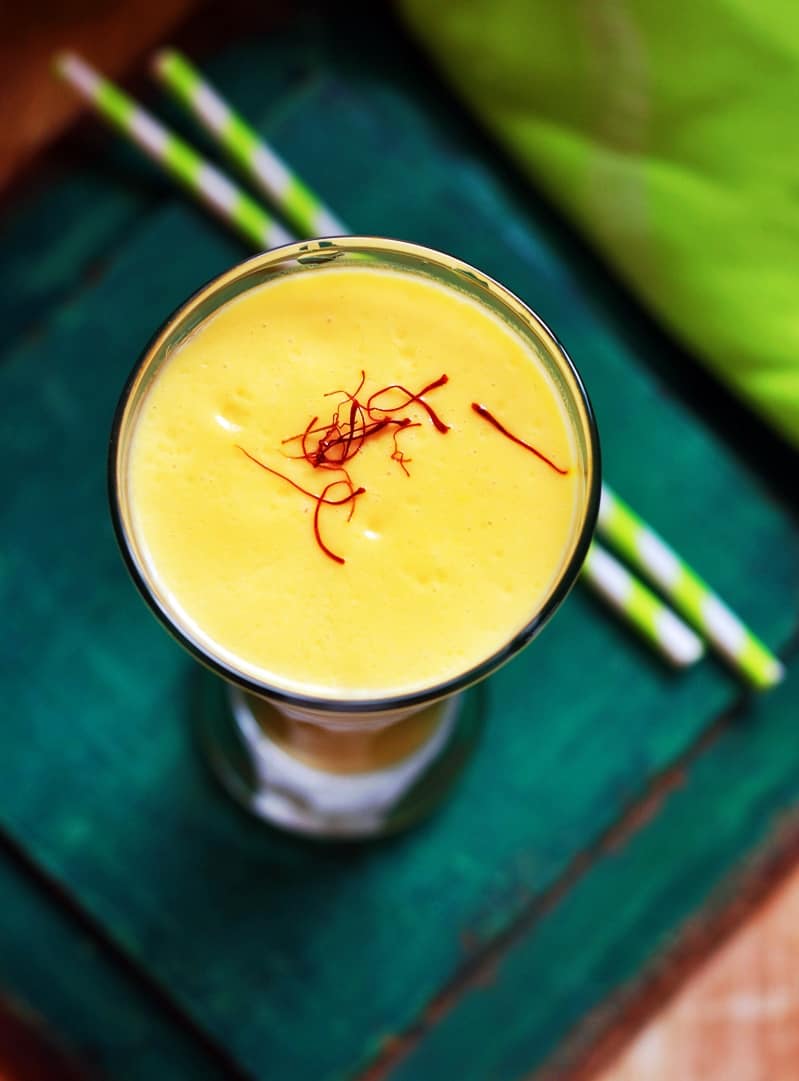 Vegan Mango Lassi Recipe
Absolutely you can make this drink vegan. Just use any non dairy yogurt. You can use coconut yogurt for a very tropical flavor, tough the taste of coconut will over power.
Almond milk yogurt will taste good without overpowering. If your yogurt is very thick you can dilute the drink by adding a splash of coconut milk.
Lassi With Canned Mango Pulp
You can use tinned mango pulp when fresh mango is not available. If you are using canned mango pulp to make lassi make sure it is sweet before making the recipe.
Make sure to use kesar or alphonso variety of mango pulp as they are less fibrous and more sweet.
Another option is to use frozen mangoes. You don't have to thaw, just add the frozen fruit to the blender along with other ingredients and make the recipe.
Serving Suggestions & Storage
Always serve mango lassi as soon as it is made. Though you can refrigerate for a day, the yogurt will start to change in taste and flavor.
For a super chilled lassi you can flash freeze the mango chunks and yogurt separately before blending.
Pro Tips
The color of your mango lassi or any mango drink will totally depend on the variety of mangoes you use. To get a vibrant yellow colored drink use alphonso mangoes or kesar mangoes.
Use mangoes that are ripe, sweet and less fibrous. If the mangoes are not very sweet you will have to add more sugar. Use good quality mangoes with intense mango flavor for a super flavorful drink.
Instead of sugar you can add honey, coconut sugar, maple syrup or powdered jaggery. You can also use any other preferred sweetener.
You can even make lassi without added sugar, just blend mangoes, yogurt and prefered flavoring. It lends a very faint taste of sweetness from mangoes.
For extra chilled drink you can add few ice cube but that will also thin down the drink. I suggest using chilled curd and fruit.
Use freshest yogurt for this yogurt based recipe. Sour curd will totally spoil the taste. For a less yogurt flavor you can add 1/4 cup milk or fresh cream.
For super thick, rich and creamy mango lassi do use full fat yogurt or whole milk yogurt. You can also use low fat yogurt but the richness will be less. You can also use Greek yogurt for this recipe for a very thick and rich mango lassi,
More Mango Recipes
Are you making this recipe? I would love to see a snap of your creation too. Do snap a pic and share on Instagram with hashtag #cookclickndevou and please give a star rating ★ in the recipe card above. Follow us on Pinterest , Instagram, Facebook for more recipes and ideas.
Recipe Card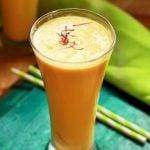 Mango Lassi Recipe
Prevent your screen from going dark
Harini
Mango lassi is a traditional Indian beverage made with ripe mangoes, yogurt, sugar and a dash of cardamom, saffron.
Thick, creamy and yummy, enjoy this quintessential Indian summer drink with king of fruits! All you need are three main ingredients, flavors and garnish of your choice to make this yummy soothing drink. Wanna avoid dairy? I have also included notes for making this mango lassi vegan, do check out!
1 CUP = 250 ml
Notes
Mangoes– use fresh ripe and sweet mangoes for best results. If fresh mangoes are not available use tinned pulp. Use less fibrous mangoes with smooth pulp.
Sweetener– You can any sweetener of your choice instead of sugar. You can use coconut sugar, maple, honey etc.
Consistency- The recipe as such yields thick mango lassi. You can use 1/2 cup milk or water to thin it down a bit. You can also ice cubes for the same purpose
Vegan Option– Use dairy free yogurt and milk for vegan lassi.
You can double or halve the recipe.
Nutrition
Serving: 3gCalories: 274kcalCarbohydrates: 48gProtein: 7gFat: 6gSaturated Fat: 4gCholesterol: 23mgSodium: 111mgPotassium: 284mgFiber: 1gSugar: 45gVitamin A: 3027IUVitamin C: 17mgCalcium: 234mgIron: 15mg
Tried this recipe? Snap a pic and share 🙂
Mention cookclickndevou or tag cookclickndevour