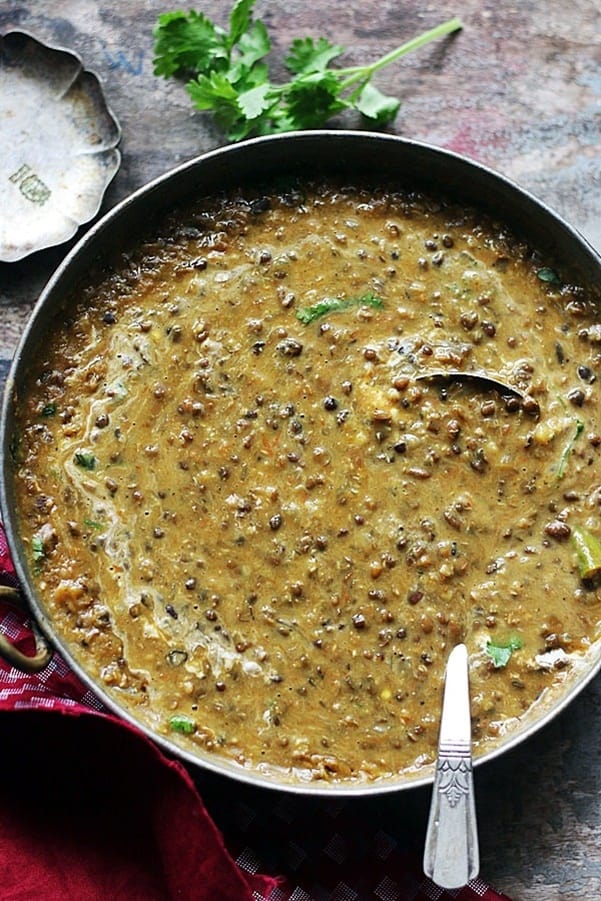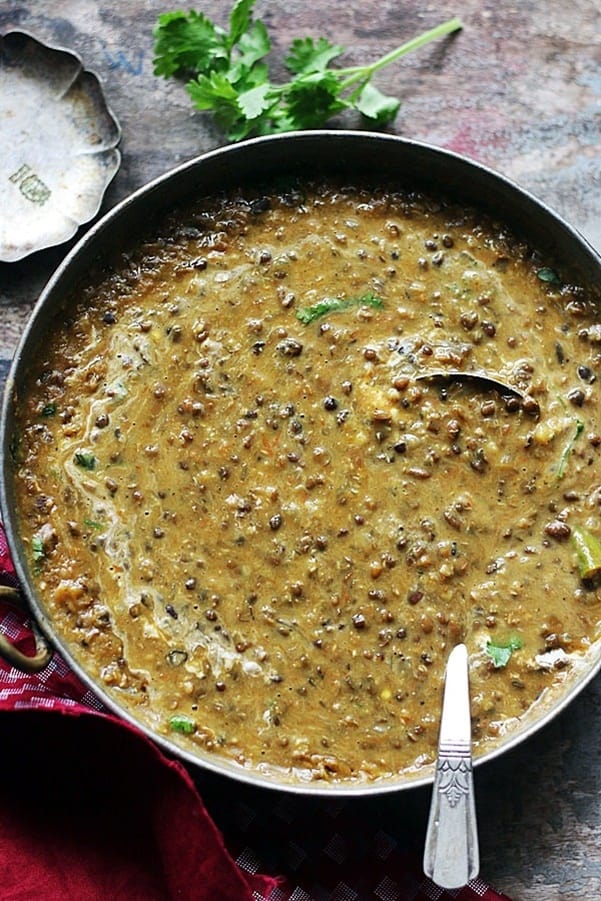 Dal makhani- Creamy black lentils cooked in butter with flavorful masala. Delicious, rich and comforting!
This delicious dal or lentils curry is one of the most popular and loved Indian dal recipes. It tastes amazing with naan, lachha paratha , steamed basmati rice or jeera rice.
In this recipe soaked whole black lentils are cooked in butter and cream, seasoned with minimum spices and served piping hot! I am sharing recipes for both stove top and instant pot dal makhani.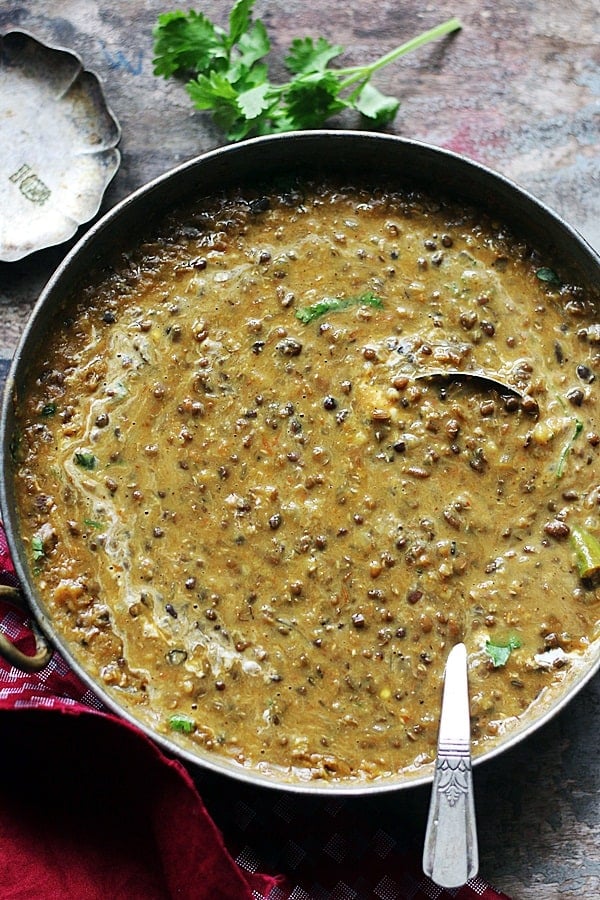 I am very happy to share with you all my tried and tested restaurant style dal makhani recipe with all tips and tricks that I have perfected over the years.
Lentils or dal as it is known in India is a staple food for most. In most of the Indian homes you will find dal is an everyday affair. I too make lentils at least 3-4 times a week.
I usually make sambar with vegetables or a simple tadka dal. On days when I make butter naan I make this special dal makhani as it is my daughter's favorite combo.
What Is Dal Makhani?
Dal makhani literally means buttery lentils. Dal is the broad term for lentils and makhani meas buttery (Derived from makhan meaning butter).
This is called makhani not only for the liberal use of butter but also the lentils themselves are slow cooked and mashed to get a creamy buttery texture.
The key to get the buttery texture is to cook the lentils really well and simmer in lowest flame for good 30-40 minutes. Yes there is no way to make quick daal makhani if you want the real taste.
Dal makhani is most popular Indian dal and served not only in all restaurants but also in wedding buffets, parties.
I have tasted this dal in many restaurants, buffets but my favorite version is the ones served in Punjabi dhabas. The dal served there has a super smoky flavor, so buttery melt in mouth texture and tastes amazing.
Traditional dal makhani is cooked in wood fired or clay oven (tandoor) for long hours. Slow cooking for long hours imparts a wonderful smoky flavor and well cooked lentils for a creamy texture.
I literally have 10 plus recipes of daal makhani in my collection and this is the one I have derived from many of those.
My daughter and husband both love this dal and I have perfected this recipe for dal makhani over many years. It is our most favorite dal and though I make it only occasionally, we truly enjoy this, so I don't skimp on butter or cream 🙂
This Punjabi dal makhani recipe is a really good one. All those who have tasted this at our home love it. It is so rich, creamy, luscious and flavorful.
I mostly serve this dal with butter naan, dhaba naan, paratha or jeera rice. But you can also serve this with plain steamed basmati rice and raita.
This Restaurant Style Dal Makhani Is
is super rich, buttery & creamy
slow cooked to get the authentic taste
Delicious & flavorful
Vegetarian & gluten free
Absolutely tastes like dhaba dal
Making good dal makhani at home is really easy. All you need are few simple ingredients and loads of time.
Making best daal makhani begins with soaking the lentils. Usually a mix of whole urad dal and red kidney beans or rajma is used in this dish.
Here I am giving you the quantity for both the lentils but I like to use only whole urad dal or black gram here. In some recipes even chana dal is added.
The key step here is to cook the dal properly. You need to cook the dal completely and it should turn mushy. To cook the dal you can use a pressure cooker or instant pot.
You can cook the dal on stove top but that it will take very long time. What I do usually is pressure cook the dal until done and then simmer it for 30 minutes before adding the masala.
Once the masala is added, again the dal is simmered for 2 hours. Yes making good dal makhani takes time and cannot be rushed.
The masala we use for this dish is a very simple yet flavorful one. All you need here are
ginger garlic paste or freshly minced ginger garlic
green chilies
chilli powder, use kashmiri chilli powder for less heat
a pinch of garam masala
Perfect daal makahani is all about the texture and mild flavor. Please do not be tempted to add more spices here. I do not even kasuri methi here but you can add 2 pinches of it if you want.
As always use best quality ingredients for making this dish taste great. Especially with recipes like this where we use only a handful of ingredients and very less masala, quality ingredients make a world of difference.
You can vary the ratio of dal and rajma. Usually for 1 cup of urad dal, 1/4 cup rajma is used. I however add only 2 tablespoons rajma and sometimes I just skip it.
You may notice even after cooking for close to three hours, urad dal will not be mashed completely. You have to keep mashing as it cooks but it will turn super creamy as it gets cooked.
Here is the best easy dal makhani recipe, I am sure you are going to love it. Let's get started with the ingredients.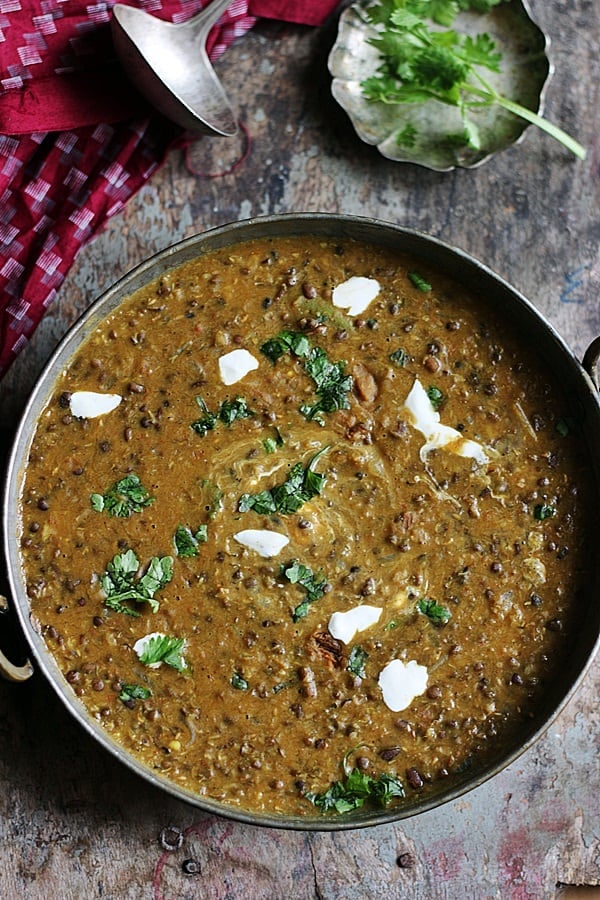 Ingredients
Lentils
The lentils used in this dish are whole urad dal and rajma. That is whole back gram and red kidney beans. My personal choice is to make this dish just with urad dal.
If you are all about making the traditional recipe use 1 cup or 3/4 cup urad dal and 1/4 cup red kidney beans.
Tomato puree
It is the base of this curry. I always use puree blanched tomatoes and use it. You can use homemade or store-bought.
If you prefer you can easily use 3/4 cup store bought puree in this recipe.
Butter
Amul butter salted and nothing else will do 🙂 Kidding there, while amul salted butter is perfect here go ahead and use any good quality butter.
Cream
Just like butter liberal use of cream makes this dish really special and rich. You can any cream like cooking cream, heavy cream, low fat fresh cream or dIouble cream. Malai collected from milk at home will also work in a pinch.
Spices
To taste this at its best refrain from adding whole spices like bay leaf, cloves etc. Trust me authentic dal makhani is not made with these. You just need 1/2 teaspoon garam masala powder and 1/2 teaspoon chili powder.
The best version of this dal I tasted was from a dhaba and it was made even without onions. Yep we want the falvor of ginger garlic and chilies blend with cream and butter here.
Ginger Garlic Paste
These two are the main ingredients for flavoring this dal. Use freshly minced ginger garlic if possible ele you can ginger garlic paste too.
How To Make Dal Makhani Recipe
Cooking Urad Dal
Pick rinse and add the lentils to a large bowl. You can use a mix of whole black urad dal and red kidney beans or rajma. Pour enough water to soak the lentils and leave overnight or 8-12 hours.
Drain and rinse thoroughly. Add the soaked lentils to a pressure cooker and pour 4 cups water to it. Also a pinch of salt and pressure cook for 18- 22 whistles in medium heat The dal should get cooked really well here. Once done, try mashing the few cooked dal with your fingers. If the dal is not well cooked, add 1 cup or 2 cups of water and pressure cook for 5-6 more minutes.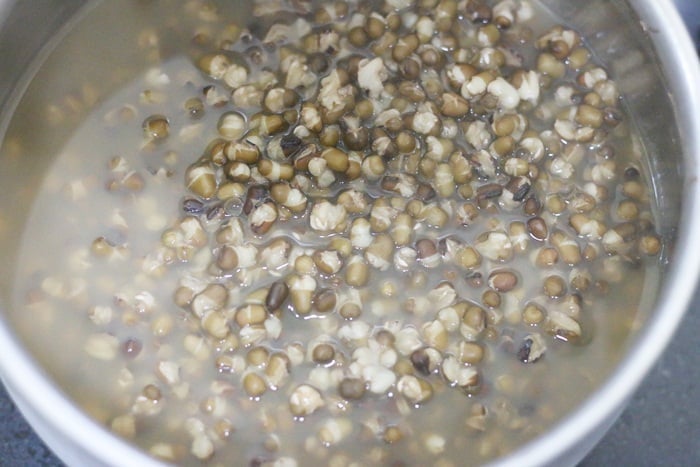 Once the pressure is released, mash the cooked urad dal well with a potato masher, add 1 cup water and simmer for around 30 minutes or until we prepare the masala.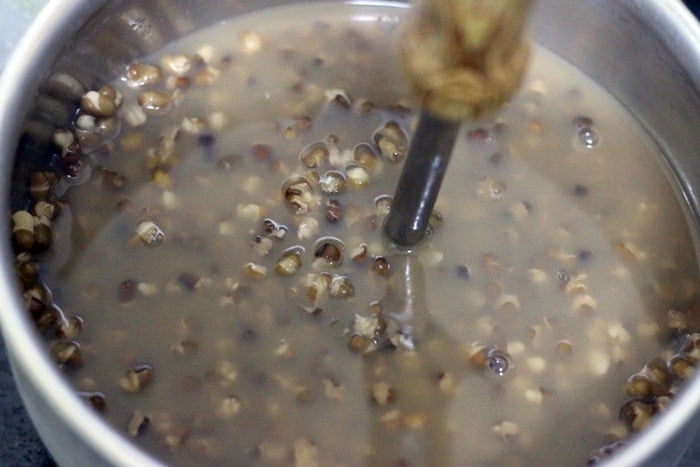 To make masala for dal makhani heat 4 tablespoons unsalted butter over medium heat in a heavy pan. Add cumin seeds and let splutter.
Add chopped onions and saute for a minute. Next add slit green chilies and saute.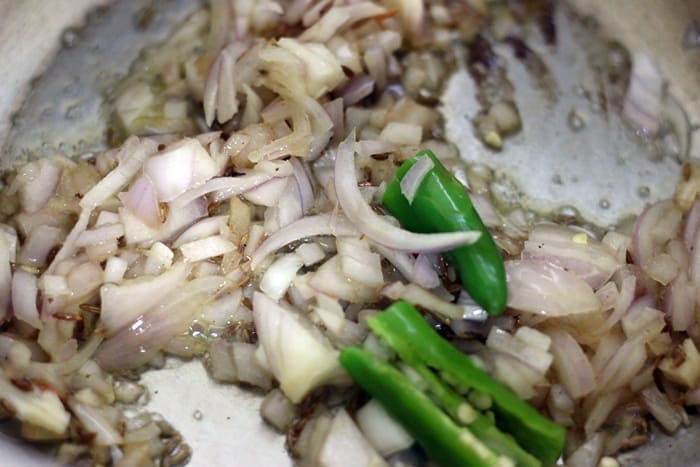 Next add minced ginger garlic or ginger garlic paste. Saute well. Next in goes the tomato puree.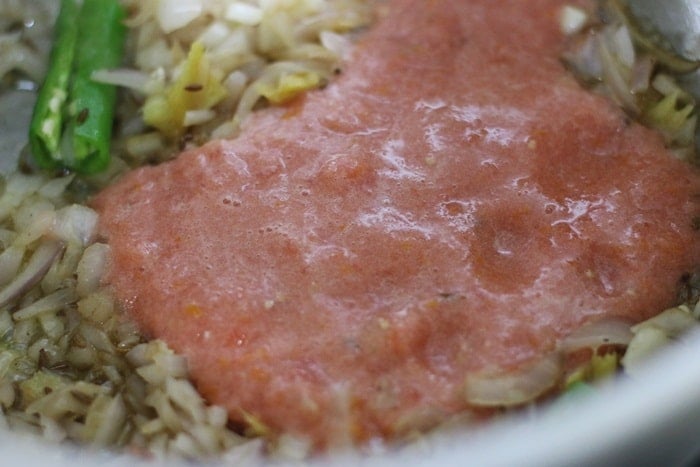 Add Kashmiri red chili powder or regular red chilli powder, turmeric powder and garam masala powder.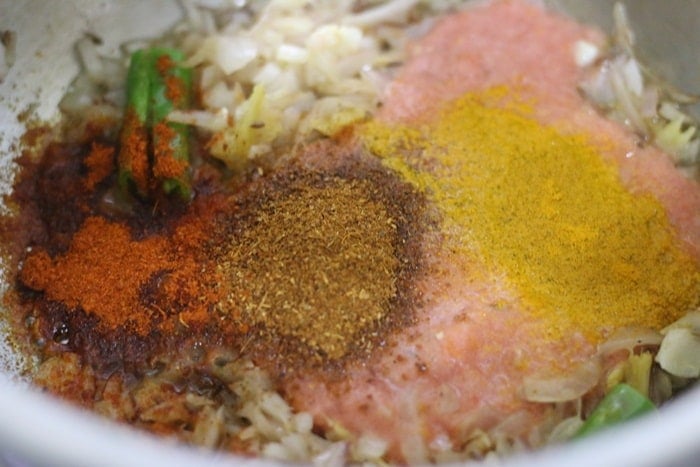 Mix well and cook in medium flame.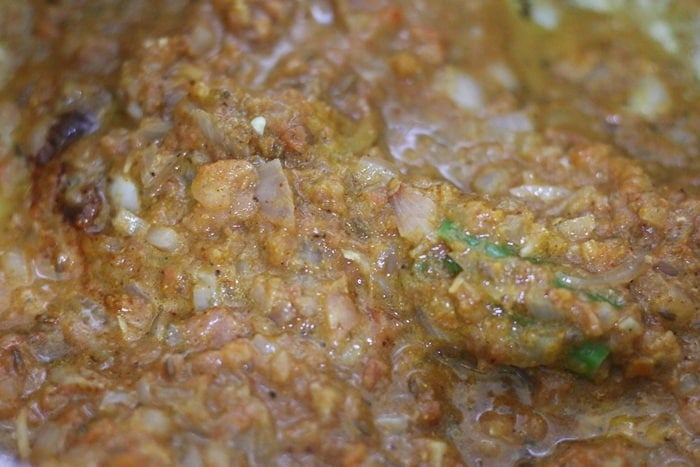 Keep cooking until the raw flavor of garam masala powder leaves.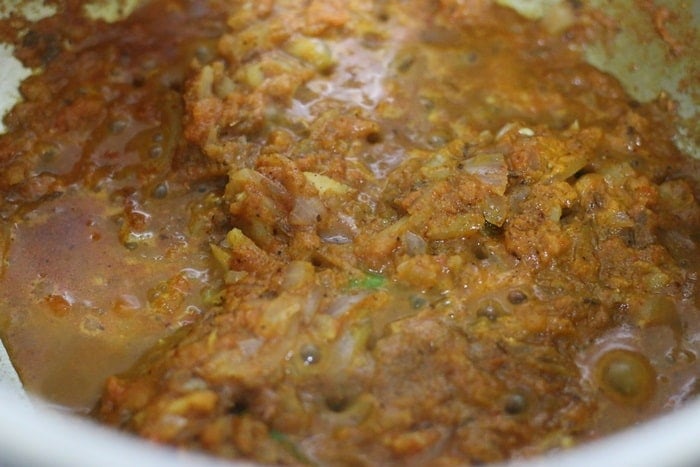 Continue till the tomato puree is well cooked and leaves fat from the sides of the pan.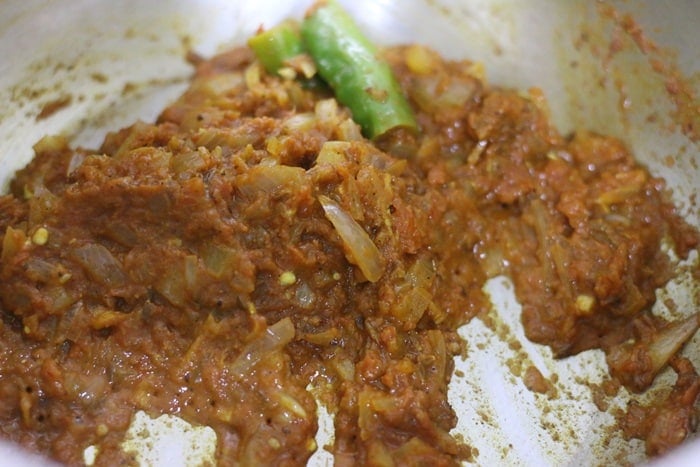 Add the simmering or cooked urad dal lentils along with the water to the cooked masala. Keep mashing every now and then.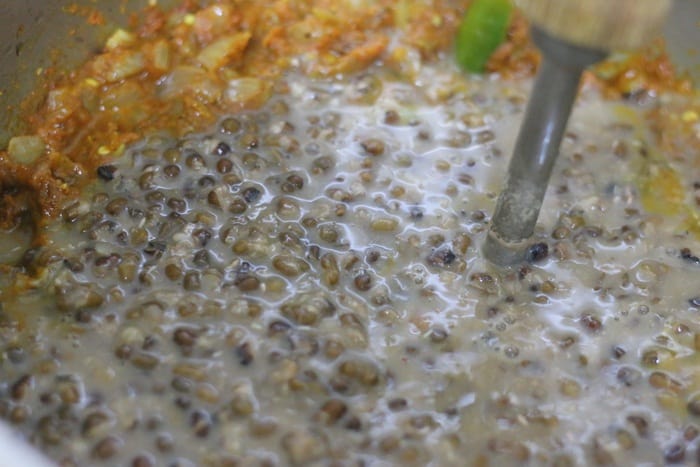 Add salt to taste.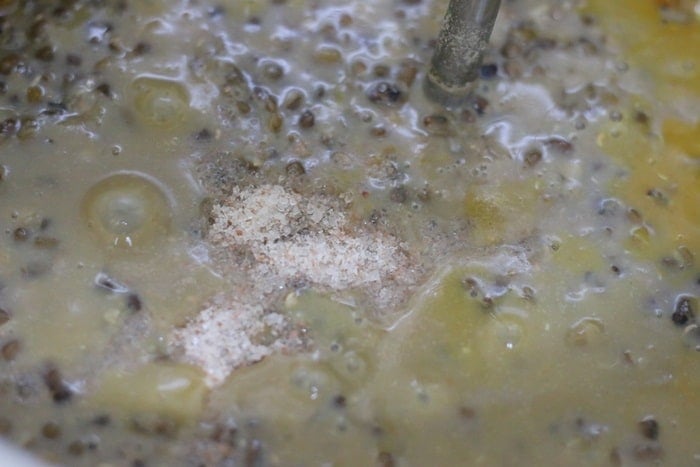 Add more water say 1 cup or 1.5 cups and begin to simmer. The dal will absorb water as it cooks, so make sure to check and add water as needed.
Simmer for 1 to 2 hours (2 hours recommended). Finally stir in 1/4 cup cream and mix well.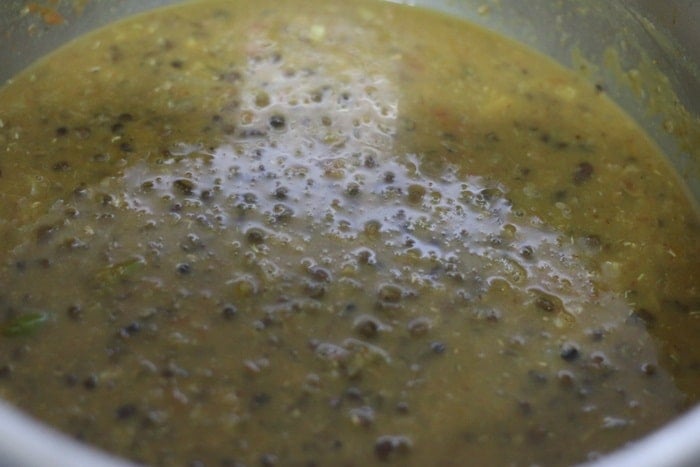 After adding cream simmer for 5-6 minutes. Add chopped cilantro leaves and mix well to garnish dal makhani. Serve dal makhani with more cream and a pat of butter.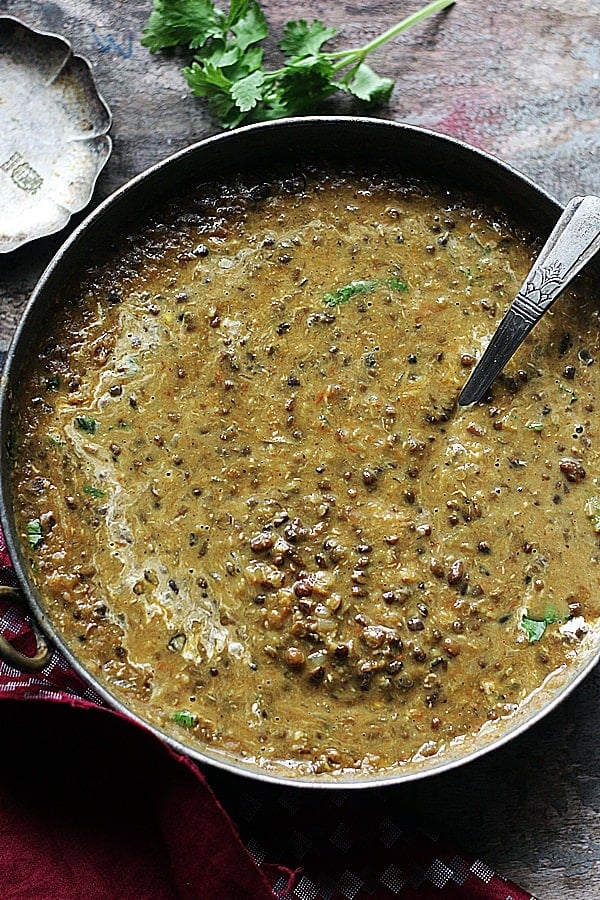 Instant Pot Method
Keep the soaked and drained black lentils ready, you need not pre cook them. Place the steel insert inside your instant pot and switch in on. Press saute button and once it displays hot, add butter and ghee. Once the butter melts add slit green chilies, minced ginger garlic and saute for 30 seconds.
Now add the tomato puree followed by spice powders and saute well for 2-3 minutes. Next add the soaked and drained lentils. Mix well. Add 3 cups water and salt to taste. Mix well and deglaze the pot by scrubbing the bottom well with spatula. Cancel saute and close the instant pot.
Press manual or pressure cook button, set timer to 35 minutes and set pressure valve to seal. Once the timer beeps, let pressure release naturally for 15 minutes. Gently release any residual pressure and press saute button again. Cook for another 15 minutes to let the dal thicken. Add 1 to 1.5 cups water if needed at this point.
Finally stir in the cream and chopped cilantro leaves. Mix well and switch off the IP. Serve dal makhni hot.
Expert Tips
Soak your lentils well– Well soaked lentils cook faster, mash up easily and easier to digest. I usually soak lentils like urad dal, rajma and channa at least for 8 hours and mostly 12 hours.
Slow cook all the way-Simmering on lowest heat for ridiculously long hours is the secret to best dal makhani. I simmer the cooked dals for 30 minutes before adding the masala and two hours after adding it.
If simmering the dal for 2 hours sounds too much, atleast give it an hour time to simmer. It is actually easy if we plan properly.
I usually keep the lentils in pressure cooker and cook for 20-25 minutes or up to 12 whistles as first thing when I start cooking a meal.
Once the dal is well cooked, I let the dal simmer till I prepare the masala. After the masala is cooked, mix with the simmering lentils and cook in lowest flame for 1-2 hours depending on the available time.
While the dal makhani is simmering away you can fix all the other dishes like making naan or rice, vegetables etc.
Actually the hands-on time needed for this dish is very less even though the total time for cooking is more.
Along with tomato puree from chopped tomatoes you can add 2 tablespoons tomato paste for more color and flavor.
Notes On Ingredients
Use butter liberally for best taste- To get the Indian restaurant or dhaba taste please do not reduce the quantity of butter used. Sauteing the masala in butter and adding some butter to the simmering da is what makes this dish truly "makhani". Good quality butter is the key ingredient for flavorful rich and creamy dal makhani.
I have used four tablespoons butter here for three servings and once in a while it is ok right 🙂 Also don't forget to serve with a dollop of butter or ghee or clarified butter.
Use good quality cream- I have used amul cream here. You can use any brand and nay variety. If you are using heavy cream you can reduce it by 1 tablespoon.
If cream is not available you can also use malai or cream collected from milk. Also if cream is not an option at all, add 1/2 cup full fat milk instead of cream.
Smoking dal makhani– you can infuse that smoky flavor by using dhungar method. I don't do this often as I don't get good charcoal easily. Traditionally this dish was slow cooked on coal for long hours which gave it that smokey flavor. You can do dhungar method if you get good quality wood coal. I have seen people using liquid smoke too, but I have not tried it.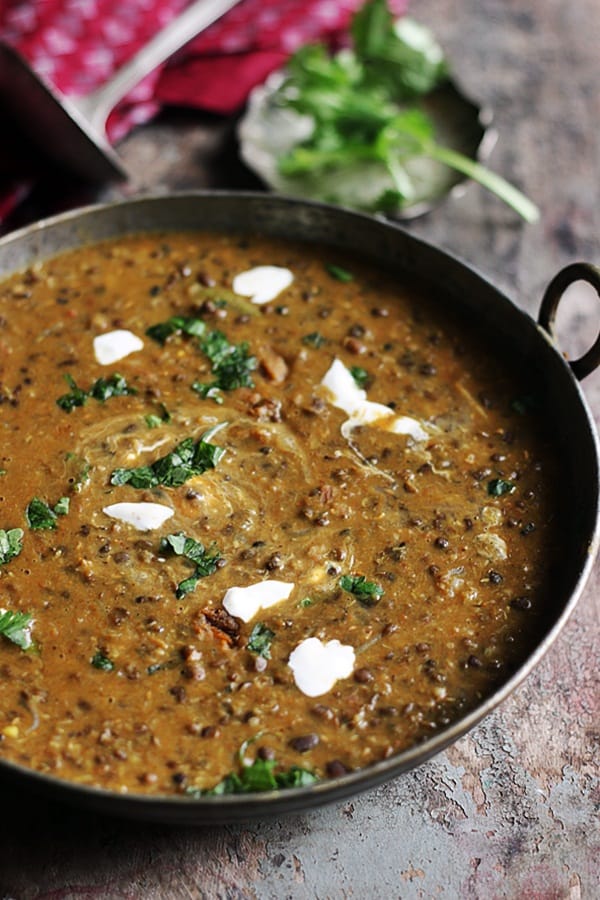 Make Ahead & Freezing
The curry base freezes really well here. You can prepare the entire recipe without cream and freeze dal makhani for 2-3 months. Just bring out the required quantity and reheat with some butter. Stir in the cream, add cilantro leaves and serve.
Serving Suggestions
This delicious and hearty dal goes with all north Indian dishes or a perfect side dish in Indian spreads.
You can serve this dal hot with garlic naan, butter naan, kulcha, jeera rice, peas pulao, paratha.
It also tastes great with steamed basmati rice, kachumber and a vegetable side.
Frequently Asked Questions
Is dal makhani healthy?
Though made of lentils, it has loads of butter and cream making it an indulgent dish. If you want to make it healthier, reduce butter and avoid cream may be.
What are the ingredients of dal makhani?
The ingredients you need to make this recipe are black lentils, butter, ghee, ginger garlic, tomatoes, onions, some spices, herbs and cream.
What does dal makhani taste like?
Creamy, buttery with earthy notes of lentils, this curry has complex and robust flavors.
Can I make this curry without onion and garlic?
Yes just skip them.
How to make vegan dal makhani?
Use vegan butter or oil and cashew cream instead of fresh cream.
More Curry Recipes
I hope you will try this recipe and enjoy as much as we did. Please give a star rating★ in the recipe card below. Follow us on Pinterest , Instagram, Facebook   for more recipes and ideas.
Recipe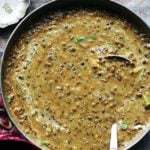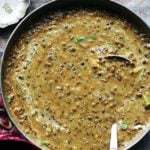 Dal Makhani
Prevent your screen from going dark
Harini
Dal makhani is creamy and buttery lentils curry, most popular and special Indian dal. Black grams cooked for hours in butter and finished with cream. Best served with naan, jeera rice.
1 CUP = 250 ml
Notes
Soak your lentils well– Well soaked lentils cook faster, mash up easily and easier to digest. I usually soak lentils like urad dal, rajma and channa at least for 8 hours and mostly 12 hours.
Slow cook all the way– Simmering on lowest heat for ridiculously long hours is the secret to best dal makhani. I simmer the cooked dals for 30 minutes before adding the masala and two hours after adding it.
Use butter liberally for best taste- To get the Indian restaurant or dhaba taste please do not reduce the quantity of butter used. Sauteing the masala in butter and adding some butter to the simmering da is what makes this dish truly "makhani".
You can double or halve the recipe. For scaling up just increase the cooking time by another 30 minutes and for scaling down you can reduce by 30 minutes. However while scaling down, its perfectly ok to simmer for long time.
Smoking dal makhani– you can infuse that smoky flavor by using dhungar method. I don't do this often as I don't get good charcoal easily. Traditionally this dish was slow cooked on coal for long hours which gave it that smokey flavor. You can do dhungar method if you get good quality wood coal. I have seen people using liquid smoke too, but I have not tried it
Nutrition
Serving: 3gCalories: 422kcalCarbohydrates: 46gProtein: 18gFat: 19gSaturated Fat: 11gTrans Fat: 1gCholesterol: 56mgSodium: 934mgPotassium: 372mgFiber: 16gSugar: 6gVitamin A: 685IUVitamin C: 16mgCalcium: 87mgIron: 7mg
Tried this recipe? Snap a pic and share 🙂
Mention cookclickndevou or tag cookclickndevour
(function(d, s, id) {
var js, fjs = d.getElementsByTagName(s)[0];
if (d.getElementById(id)) return;
js = d.createElement(s); js.id = id;
js.src = "//connect.facebook.net/en_US/sdk.js#xfbml=1&version=v2.3&appId=165812776837774";
fjs.parentNode.insertBefore(js, fjs);
}(document, 'script', 'facebook-jssdk'));