Paneer tikka masala is a popular Indian paneer curry
 in which spiced grilled paneer cubes are simmered in a delicious & creamy gravy.
Make classic paneer tikka masala at home just like your favorite Indian restaurants with my easy, tried and tested recipe. You will absolutely love this yummy Indian food.
Tikka is usually referred to food that is marinated and grilled. So paneer tikka masala means paneer cubes or Indian cottage cheese, marinated, grilled and further simmered in masala.
This is a wonderful delicious curry of soft, melt in mouth robustly flavored marinated and grilled paneer cubes simmered in a flavorful curry base.
You will love this super flavorful and tasty Indian curry with soft butter naan, paratha and jeera rice! Here is how to make best authentic paneer tikka masala at home!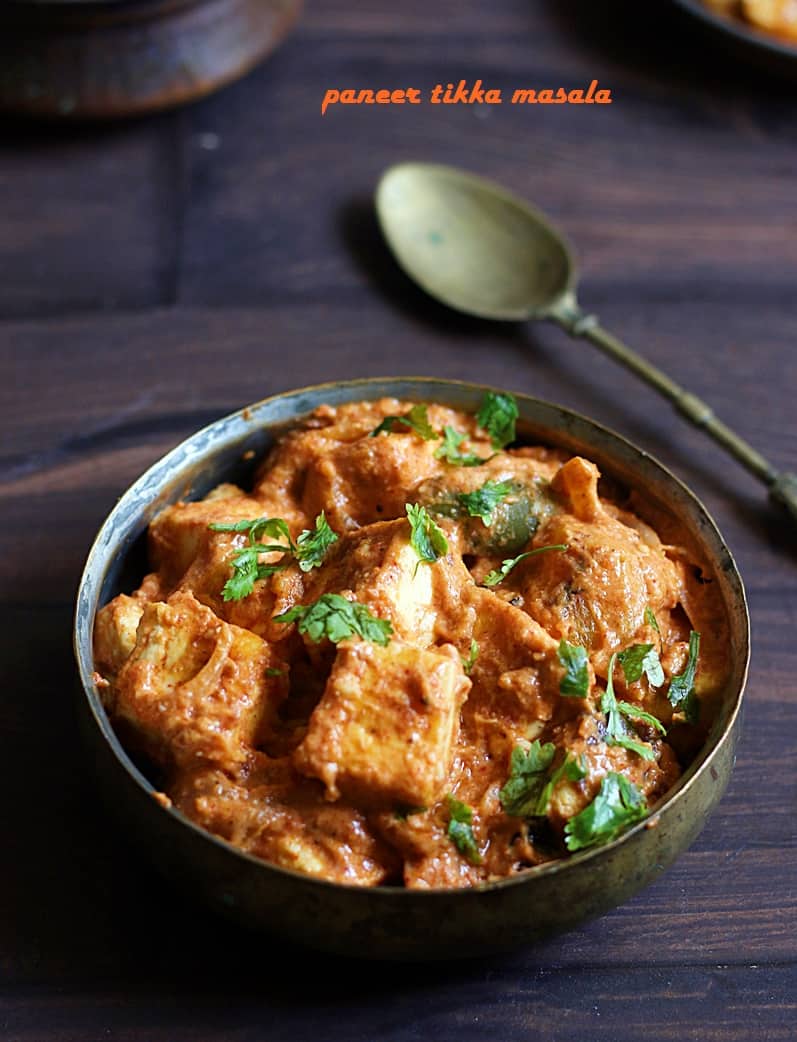 Tikka masala recipes from Indian cuisine are popular world wide. In fact chicken tikka masala and butter chicken are the most popular Indian curries outside India.
They are extremely popular in United kingdom, USA and the vegetarian variation of world famous chicken tikka masala is this paneer tikka masala & veg tikka masala.
Read on to know more about this delicious dish, how to make paneer tikka masala at home easily along with loads of tips and tricks.
About Paneer Tikka Masala Recipe.
Paneer tikka masala is a north Indian paneer dish where marinated paneer cubes are first grilled until charred until smoky & further simmered in a onion tomato curry base.
The dish typically uses regular spice powders along with a special spice blend called tandoori masala powder.
This tikka masala with paneer is my favorite curry to order from a dhaba near by. The flavor and taste of this curry here in this dhaba is so good.
In restaurants and dhabas the paneer cubes are marinated and grilled in a clay oven called tandoor. Grilling in clay ovens give an amazing smoky taste and flavor. The grilled paneer cubes are further simmered in delicious tomato gravy.
While making at home you can grill the marinated paneer cubes in oven as we do in this tandoori paneer tikka or grill on stove top as in this grilled paneer recipe.
Paneer recipes are always welcome at my home and few other paneer curries we love at our home are paneer butter masala, palak paneer, shahi paneer, paneer kadai, korma etc.
I make this paneer tikka masala during weekends when I can cook leisurely. Yes making a good paneer tikka masala takes some time and effort.
But I follow some tips and this recipe gets done in 40 minutes. Read on to learn the tips.
Serve this curry with naan, jeera rice, peas pulao or plain basmati rice.
This Paneer Tikka Masala Is
Flavorful, delicious & rich
Creamy with excellent aroma, restaurant style
Gluten free & vegetarian
Easy to make with simple ingredients
Gets ready in 40 minutes.
To make paneer tikka masala there are two parts.
First you prepare the paneer marinade and grill the paneer cubes.
Next make the tomato gravy or sauce and simmer the grilled paneer tikka cubes in it.
To make this recipe easily yo can make the marination ahead and marinade the paneer overnight. Next day you can grill the paneer and make the sauce side by side. By the time your masala gets ready, paneer will also be grilled. Finally you just have to toss and simmer for few minutes and serve 🙂
What Goes In The Marination Of Paneer Tikka Masala?
To make the marinade for grilling the paneer we will prepare a thick spiced yogurt marinade. I always use homemade hung curd for this. You can also use plain Greek yogurt.
To the Greek yogurt or hung curd we add all the spice powders like turmeric powder, red chili powder or cayenne pepper, garam masala, chat masala, coriander powder, salt etc. You can also add some gram flour or chickpea flour. To this we mix the paneer cubes and marinate for 4-12 hours.
Along with paneer I also add colored bell peppers in this recipe. You can either grill the paneer cubes or pan fry them on stovetop.
How To Make Paneer Tikka Masala
Making the Marinade For Paneer
1. Keep cubed paneer, onions and bell pepper ready.
2. Add yogurt to a wide bowl and whisk it very well. Add salt, turmeric powder, chili powder, chaat masala, garam masala powder, minced ginger garlic or a teaspoon ginger garlic paste.
4. Mix very well and add lime juice or lemon juice.
5. Add the paneer and vegetables cubes and mix well. You can even toss well to coat the masala. Cover and refrigerate for minimum 2  hours. You can even refrigerate over night. In the mean time soak 3-4 bamboo skewers in water for 2 hours.
4. After 2 hours, the marinade would have well coated the paneer cubes.
5. Arrange the paneer cubes on a greased tava and cook on high flame for 3-4 minutes. I always add everything at one go, remove paneer after 3 minutes and cook the vegetables for 2 more minutes. Once the tikka is ready, remove to a plate. Reserve the leftover marinade mixture if any for making paneer tikka masala curry.
Making Paneer Tikka Masala Curry
1. heat a pan with 2 tablespoons butter. Once the butter is melted and hot, add bay leaf, clove and cardamoms. Saute for a minute
2. Add chopped onions and saute till the onions turn soft. Add ginger garlic paste, slit green chilies and saute well.
3. Add tomato puree, the leftover marinade and mix well. Cover and cook till the tomato puree reduces in volume and leaves out fat from the sides.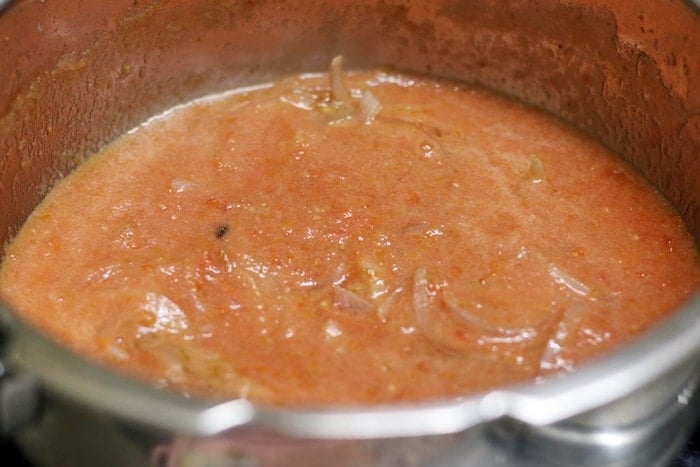 4. Add kashmiri red chili powder or ceyenne pepper, turmeric powder, garam masala powder. Saute till the raw smell of spice powders go off.
5. Add cashew paste and mix well. Add 1 cup water and mix. Next Add 1/2 teaspoon sugar. Season with salt
6. Mix well and cook till the paneer tikka masala gravy reaches the desired consistency.
7. Once the gravy is thick to your preference, add fresh cream or heavy cream and stir. Add prepared paneer tikkas and simmer for 2 minutes. Do not cook for long time after adding cream and roasted paneer. Add crushed kasuri methi, mix and remove from flame.
8. Add finely chopped cilantro leaves and serve paneer tikka masala wih naan, kulcha, roti etc.
How To Grill Paneer On Stove Top?
If you don't have oven you can grill the paneer for making tikka masala on stove top or even pan frying is good.
Prepare the marinade mixture and marinade the paneer and veggies for 4-12 hours.
To grill the paneer on stove top heat a cast iron pan and swirl about 3 teaspoons oil all around.
Place the marinated paneer cubes and veggies, simmer and cook till they are charred a bit and cooked well.
Use the grilled paneer cubes for making paneer tikka masala.
How To Get The Smoky Flavor In the Curry?
In restaurants and dhabas the paneer cubes are grilled in a clay oven which imparts a wonderful smokey flavor. To achieve the same at home you can do what is called dhungar. It is nothing but infusing the flavor of flaming charcoal in the curries, dal fry etc.
To make this dhungar first heat few pieces of charcoal very well until it starts to flame. Place this very hot charcoal pieces in a small bowl and place this bowl inside the pan containing curry. Close with a tight lid. Let sit for 3-4 minutes. Remove the bowl containing charcoal and discard. The paneer tikka masala will now have the smoky flavor of charcoal infused in it.
How To Make Vegan Paneer Tikka Masala?
To make this curry vegan just replace
Dairy milk yogurt with any vegan yogurt like soy yogurt or cashew yogurt.
Fresh paneer pieces with tofu
butter with oil.
Cream with thick coconut milk or coconut cream.
Tips For Making Paneer Tikka Masala
Use fresh homemade paneer for best tasting masala.
The curd should be fresh and thick. If the curd is not thick, paneer will not hold up the marinade. If the curd is sour the curry will not taste good.
After adding the grilled paneer cubes, do not boil or even simmer for long. Just toss and simmer for 3-4 minutes.
You can double or halve this paneer tikka masala recipe.
Along with fresh tomatoes you can also use a tablespoon of tomato paste for more color and flavor.
I have not added any coloring agent here. To get deep vibrant color use Kashmiri red chili powder in the marinade as well as masala sauce.
You Might Also Like
Recipe
(function(d, s, id) {
var js, fjs = d.getElementsByTagName(s)[0];
if (d.getElementById(id)) return;
js = d.createElement(s); js.id = id;
js.src = "//connect.facebook.net/en_US/sdk.js#xfbml=1&version=v2.3&appId=165812776837774";
fjs.parentNode.insertBefore(js, fjs);
}(document, 'script', 'facebook-jssdk'));